If you need any evidence of how quickly things change in politics look no further than Southend Borough Council.
On 28 October in the Echo, Anna Waite, Planning Supremo at Southend Council on the possibility of NEW plans to build 10,000 new homes in the next 20 years on land at Fossetts Farm and Bournes Green, Southend said:
"This scheme is ill-conceived, unsustainable and very undesirable.
"I believe we should be protecting the green belt from housing developments and farming our agricultural land to sustain the population.
"I shall be opposing this proposal, which I strongly believe the residents of east Southend do not want."   
160 residents from Hockley and Hawkwell went to the Rochford District Council Meeting held at the Hawkwell Village Hall to protest against the proposal from the Council to build 330 new houses between Thorpe Road and Clements Hall Way.
Independent District Councillor John Mason for Hawkwell West spoke at the end of the Meeting at the request of a resident to explain whether he was against the proposal.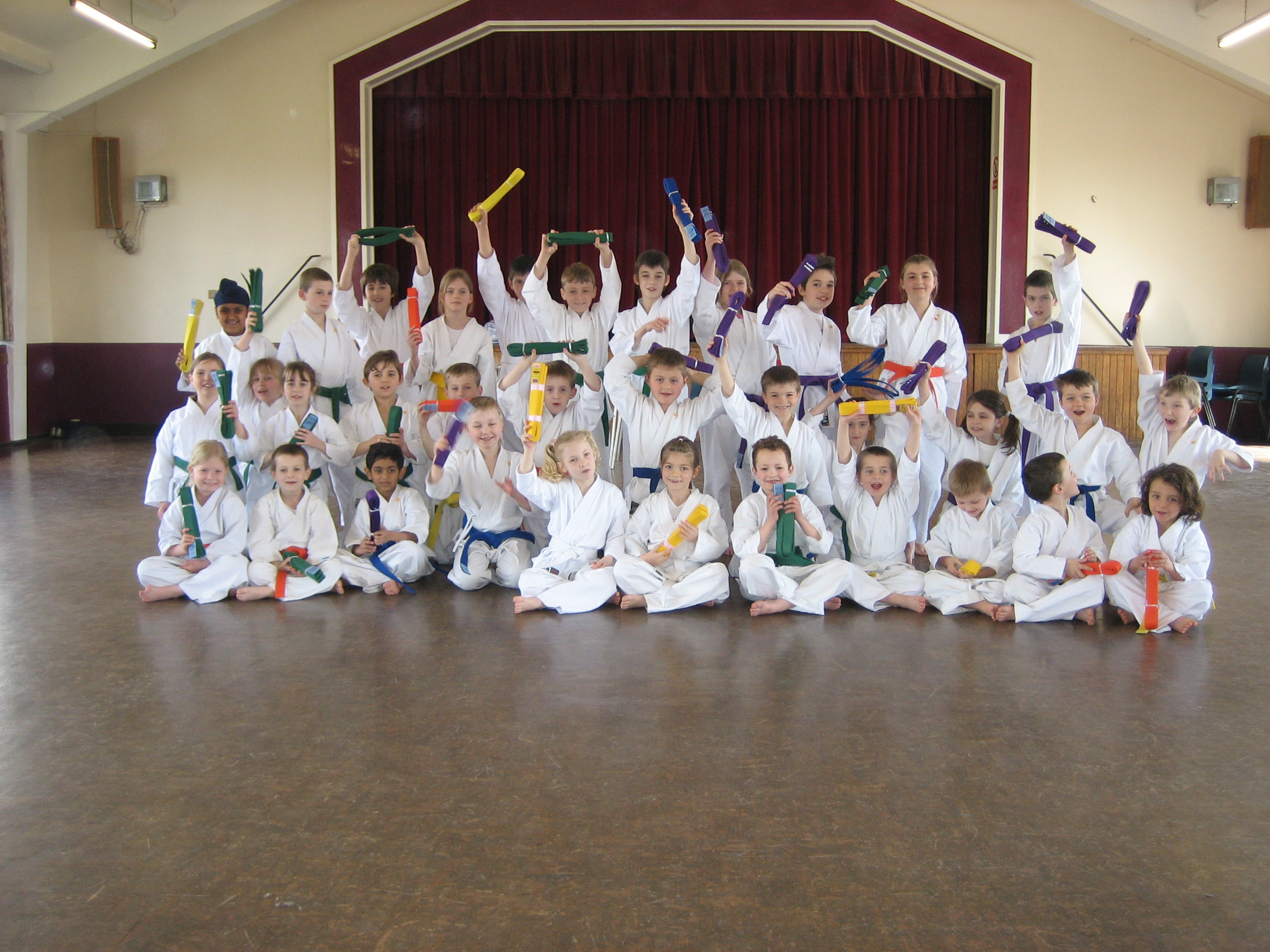 Local based Britka Karate have opened a new karate class at Hawkwell Village hall, for children aged 5 to 10 years.
Our classes are run by  fully qualified male and female Instructors.
For information about this and our other classes please contact Russell 07745 104173 or visit our website at www.britka.co.uk
This article is an "exclusive" that Brian Guyett, Chairman of The Hockley Residents' Association asked us to publish. 
The table below summarises the proposals in RDC's Core Strategy and also shows residents' current understanding of the 'true' locations.
RDC does not seem to want us to see these figures. They are not summarised in the Core Strategy and we all know by now that some of the descriptions are misleading, to say the least. Neither are they mentioned in the special edition of Rochford Matters.
This is an update on the work that I am doing as your independent district councillor for Hawkwell with the Hawkwell Action Group which is fighting the imposition of 330 houses in Hawkwell West.
I have had a conversation with an Officer at Essex County Council responsible for transport and highway issues who has advised me that RDC has asked it to conduct an assessment of a site he called "Rectory Road". When he confirmed the housing numbers at 330, I concluded that this was the whole allocation being put forward by the District Council in a "general location" which has been written in a report as Hawkwell – South.
Westcliff Film and Video Club are about to start their new season. Nothing new there, it's happened every year since 1963. The difference, this time, is that the club has changed its name to, SOUTH ESSEX FILM MAKERS.
One of the premier film making clubs in the country, it now attracts members from all over South Essex and the name change is aimed at reflecting that. In fact the club has rarely held its meetings in Westcliff at all. Over the years they have used many venues including the County Hotel Eastwood, Hawkwell Community Centre and, for the last few years, Wyburns Primary School, Nevern Road, Rayleigh. That is where the new season will start, on Monday 29th September 7.45 for 8pm. Visitors and prospective members are always welcome. Once again there will be a full programme of Talks, Practical sessions, Competitions and members film nights.
A local puzzle enthusiast has scooped a £10,000 cash prize from the UK's leading Prize Competition organisers, Prize Magazines.
Sheila Watkins from Hockley in Essex was presented with the cheque for £10,000 by Prize Magazines owners Tony and Judy Lane after winning the main prize in a national draw being run through their seven magazines.
Sheila, who is about to start receiving her pension later this year, said "What a brilliant boost to my pension! I plan to share some of the money with my family, visit friends in Portugal for my sixtieth birthday and go on a dream trip to Iceland. I have already treated myself to a Nintendo DS too!"
The Hawkwell Residents Association AGM is to be held in the annex of the Hawkwell Village Hall 6th August at 20.00 hrs.
VEHICLE CRIME:
Overnight 8th July into 9th July there was several thefts from motor vehicles in the Hawkwell area. There was also sheds entered, possibly where the culprits are looking for tools to use to commit crime??
SUSPICIOUS MALE:
On 7th July, a suspicious male was reported calling at an address in Jubilee Close, Hockley claiming to be from Dynarod. He had no uniform and no ID. The male was white, late 20's / early 30's, approx 6'01", slim build, short dark brown hair, wearing grey trousers, red T shirt with green stripes going round it (possibly a rugby shirt.) The male stated there had been a report the drains were blocked. The informant to police claimed the male seemed surprised that someone was home.
Thank you to everyone who wrote to Arriva objecting to a change of the 8 Bus Service to one per hour.
Whilst Arriva have stated that that they have not made a final decision, I think that we have to face the possibility that this decision could go through because I am advised of the rising cost of fuel and the low passenger numbers.  My concern is that with a service of only one per hour then passenger numbers will fall even further and next time the service will be cancelled.
There were renewed calls in the Echo on 4 July for a Southend Relief Road because of recent closures of the A127. Southend notables were interviewed and they saw no point in road improvements in Southend which would link up with the A127. A suggestion was of a new road going North of Shoebury.  Nobody actually said that there should be a Rochford Southend Relief Road but how long will it be before this gets back into play following the retirement of Southend MP Sir Teddy Taylor who campaigned relentlessly for a major road through Rochford District. 
Arriva have announced to the District Council proposals that from 5 October the 8 Service could be extended to Rayleigh but cut to once an hour. The public was campaigning for the 8 to be extended to Rayleigh but NOT once an hour instead of a 30 minute service.
To object please email Arriva. Matthew Arnold customerservice [at] arriva-shires [dot] com
So getting to Hockley for the Doctor, Clinic, Library etc., will be harder for many who have no transport and cannot walk well or far, uphill.  And if there is a cancellation then one bus in 2 HOURS!!  As well as Hockley we will be cut off just same from Rochford and Southend if you need to go in the other direction.
As your representative on the District Council, John Mason met with Chief Inspector Andy Prophet and PC Steve Joynes at Rochford Police Station on Thursday afternoon.
They gave him the opportunity to talk in depth about the problems that residents have been experiencing and the concerns that they have.  John emphasised that if Essex Police see Clements Hall as a good place for the young people to congregate and they support the Teen Shelter then Essex Police must be resourced both for supervision and action to be taken about under age drinking and drinking anywhere in that area because it is banned.
Hawkwell Parish Council has obtained permission from Rochford District Council to site this new development near the skate board ramp in the playing fields.  Residents at the Central Area Committee held at Hawkwell Village Hall last year voiced their concern but the consultation conducted in the Parish Council Newsletter did not raise any objection.  The Parish Council has the funding and it is now going ahead.
A resident has, however, found out that another teen shelter of a particular design has run into big problems and has had to be removed.  I have asked Hawkwell Parish Council to check this out before going ahead.
At the Public Meeting in Hawkwell a resident asked me to explain why this has not been considered in the planning for the strategic housing development plan for Rochford District whereas it was include in the London Southend Airport Report (JAAP)?  The Brickworks Site could support 200 new houses.
The detailed position is as follows.
The formal consultation period on London Southend Airport Report (JAAP) started on the 24 June.  If you look at the four possible development scenarios you will see that a mixed development scheme is suggested for the old brickworks site under Scenario 3.
In the Echo on Monday, Terry Cutmore, Conservative Leader of Rochford District Council said "there is nothing wrong with the council's practices.  The whole council is involved – not just the Conservative Members"
RDC spent £4000 including £1395 spent at the Western Ivy hotel and restaurant in Margaretting.
Whilst these are working away days for all Members, I have always declined to go because the Council already has adequate premises and I see no reason to waste council tax.
So it is not true, The Rochford Independent, aka Councillor John Mason, is not involved but FOR THE PUBLIC RECORD, Conservative and Lib Dem Members are.
Having seen the huge turnout at the Hawkwell Action Group's Public Meeting many of you asked how you could object.  Rather than wait for an official public consultation you can protest now especially as it is known that the Planning Policy Committee has reviewed the sites.
Here is the draft of a letter you could send to the Council, Click here.
The Liberal Democrats have published an article called A "Presidential-style" Council but The Rochford Independent would like to share with all residents just how this new BASIS for Rochford District Council will directly affect one of the big decisions that are made in the next few months.  We don't think that the public appreciates that the new cabinet members are in a very powerful position.  So how will this impact on the allocation of 3700 new houses across the District?  This is how it works…………and if you wish to get your views known before the policy is made then write to Councillor Hudson now rather than later.  We feel that although there is a public consultation period it will be so much harder to get big changes once it has been published so do it now ……..
The Hawkwell Action Group's Public Meeting (protesting against the possible imposition of 365 houses on Greenbelt) was attended by 350 residents all who vowed to object when the District Council next opened the Public Consultation. This followed on from the first public meeting in November at which it was agreed to from an action group.
Jamie Popplewell introduced the Committee, Carol, Margaret, Laurence, Pat & Terry and gave an update on the background and developments. John Mason, being an Independent District Councillor, was introduced as an advisor to HAG.
The Editor met with Parish Councillor Myra Weir last night at the Public Meeting and she confirmed that the three members of the public who agreed to act as Chair, Secretary and Treasurer have sent the initial funding cheque back to the Rural Community Council of Essex (RCCE).  This signifies that they did not wish to proceed.
This means that  the whole process must start again. Months of preparation and several public meetings have been wasted.
What is a Village Plan?