Echo Report 21st December 2009 – Outrage as car wash is built without approval
A car wash is being put up without planning permission in Hockley.  Rochford District Council has called on those building the car wash, at the site of a former vehicle rental firm in Alderman's Hill, to stop work immediately.  But yesterday the Echo saw workers continuing the development and digging a drain.  Residents got suspicious after a 12ft sign went up outside the site advertising James Hand Carwash and Valeting Service.  One resident, who did not wish to be named, said: "It is an outrage this is still being built. It is on top of a hill, so our concern is the water and chemicals will run off into the drainage system.  "It will be dangerous at this time of year, creating black ice.  "Also, the emergency services use this as a main route into Hullbridge, causing further concern over accidents from the slippery conditions the valeting service will create. If there is an accident on the road caused by the valeting service, will it be to blame or the council?"  A board has been put up around the site, with work going on behind it.  Shaun Scrutton, the council's head of planning and transportation, said: "The operator has been informed that works on the site are unauthorised and undertaken at their own risk.  "It has been recommended all works cease until planning issues are resolved. The council has been told a planning application is being prepared for the use of the site as a car wash, and consent will also be sought for the erection of a wall alongside Folly Lane.  "It is understood the underground petrol tanks have been filled with foam and made safe to the satisfaction of the petroleum officer."  The Echo tried to talk to the workers yesterday, but our questions went unanswered. Residents with concerns have been told to contact the council's planning department by email, letter or phone.
Time to show opposition to 450 planned houses, VILLAGERS need to make their voices heard about plans to build 450 new homes, a worried councillor has said.
Monday 28th December 2009 By John Geoghegan in the Echo 
Michael Hoy, a Green Party parish councillor in Hull-bridge, believes the village has been subdued in its opposition to the plans which form part of Rochford District Council's core strategy for housing across the district.
He raised the issue at a recent parish council meeting, where he also called for a village plan to help shape any development and to make sure Hullbridge gets something in return from the developers.
Mr Hoy said: "The core strategy has been well-publicised, but we've had no-one at our meetings about it. I also feel there should be more visible support from our district councillors on the issue.
"We must start acting now to let people know what is going on and either try to reduce the housing numbers or, at least, get something back from the developers."
He compared Hullbridge's reaction to Hawkwell and Rawreth, where there has been strong vocal opposition to their housing allocations. The 450 new homes would increase Hullbridge's population by about 30 per cent.
Mr Hoy added: "At the Asda development in Rayleigh, money was forthcoming from the developers for other projects, such as sports pitches and the leisure centre."
The parish council decided to look at the proposals and will hold meetings to get a parish plan up and running.
About 5,500 new homes must be built in Rochford district by 2025 under the East of England plan, which sets the Government housing targets for the area.
The district council must decide where the houses should be built as part of its core strategy.
STOP PRESS, 7/01/2010.  The Government has announced that steps are being taken to control the national distribution of salt !!
This means that it will be necessary to reduce the schedule published here 0n 8/1 and 9/1 -go here  or here to find out more information 
With more snow and icy conditions on the way after the Festive Season our thoughts turned to the problems we experienced in Rochford District from 17/18 December right up to Christmas Day.
ECC Local area offices with knowledge of local requirements can also get involved in deployment. Roads are treated in their order of importance and usage.  So what is considered of importance in Rochford District?
So I decided to write to the County Councillor who is responsible, Councillor Norman Hume, to find out. 
The message that ECC has spent a great deal of budget on gritting roads in the last 10 days has got across to the public.
They are now asking where was gritted, time and date.  Obviously I only need Rochford District data please.
I look forward to hearing from you.
The answer came in the form of a Map where the roads salted are shown in blue.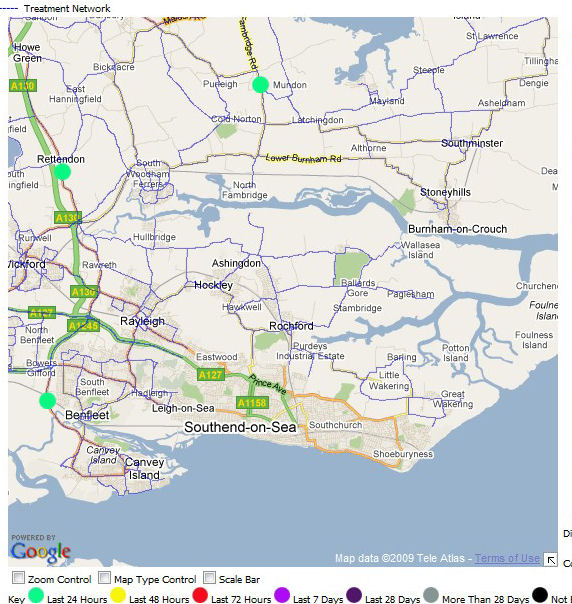 The following link is to the active map that is updated day to day.
http://www.trafficweather.info/roadWeather/rwisMap.jsp?client=98
There is even more information posted below by an Officer from ECC under Comments.
So what about the pavements in our shopping areas?  They were largely untreated and dangerous for several days.
RDC now has its own supply of Salt and 9 new bins were ordered for our shopping areas just before Christmas. The piles of salt/grit that I have seen myself in Rochford and Hockley. 
I think that Keith Hudson has done a great job for residents in securing their safety in conditions which are set to be down right dangerous if the problems before Christmas were to have been repeated.
When the winter is over, though, there are questions to be asked as to why Essex County Council has the responsibility for this and cannot, apparently, fulfil its obligations.
Is it a budget issue or a lack of resources in its contractors?
Although I don't want to count the cost right now, wishing to see safety fulfilled, I am sure that Keith is keeping count of the spend, and although it may not be high or significant in the overall RDC Budget, I do hope that we  as residents, have not already paid ECC and this spend is extra !!
The weather forecast for the next few days looks dire, keep yourselves and your families safe and well.
THERE WAS CLEARLY A BIG PROBLEM INITIALLY AT ECC WHICH WAS EVIDENTLY SOLVED BY RDC !!
The following Article was published by RDC on 23 December which was a full 5 days after the first snowfall and during the first period of 24X7 below freezing conditions.
Did it take this long for ECC to realise that it could not fulfill its obligations?
Or did it take 5 days for ECC to give authorisation to RDC?
The Full Article on Rochord District Matters Online is at
http://www.rochford.gov.uk/rdm/index.php/2009/12/23/rochford-district-council-help-de-ice-the-pavements/
or if that link does not work use this
http://dl.dropbox.com/u/1063718/Rochford%20District%20Council%20help%20de-ice%20the%20pavements%C2%A0%C2%A0Rochford%20District%20Matters%20Online.mht
I would have asked this question there but "Comments are Closed". Here are a couple of Extracts to put my comment into context.
"Ensuring the roads and pavements are kept as ice free as possible is the responsibility of Essex County Council, however, due to the severity of the weather, resources have been stretched and Rochford District Council has stepped in to help out."
"The Council offered personnel and vehicles and has been authorised to collect rock salt from the County's stocks, to work on clearing pavements in the District, in co-ordination with the Essex County Council contractor."
BIN collections across Rochford district were suspended until 28 /12.
The District Council announced the suspension on Christmas Eve because of "icy conditions proving very dangerous for both the personnel and vehicles".
From Monday 28/12 contractors Sita  started collecting all the bins they were unable to collect last week, but compostable food waste will not be collected until this week.
If householders' compostables bins gets full up by then, the council has said that, as part of a one-off arrangement for this week only, food or garden waste can be left in the purple-lidded bin for non-recyclables.
A Hawkwell resident said on the Echo Web Site on Sun 27 Dec 09
"looks like we will be doing a tip run once again. Before we went on these 3 bins, 1 for food, 1 for rubbish and 1 for recyclable, at xmas time they would take all rubbish at next collection after xmas including stuff left beside bins, as the powers that be acknowledged there would be extra rubbish. Last year with the new bins, the council took a backward step in intelligence and seemed to think that the rubbish would be less than previous. The collections go as follows wk 1 non recyclable, and food, wk 2 recyclable and food. Last week our collection was due on thursday, which was the non recyclable, they didnt show, this week its the recyclable (technically) the above message doesn't make sense, are they going to take last weeks rubbish and this weeks rubbish in one hit and any extra created by xmas as the non recyclable is already full from previous 2 weeks or are they just going to assume, as they did last year, that the rubbish will be minimum. In which case i had better load up my car now and go down the tip, the rubbish collection now is more rubbish than it was before. It would make more sense to take the non recylable and recyclable bins weekly and food one 2 wkly, as my food bin is rarely used. (i cant abide waste and if we dont eat it, dog gets it)"
The only advice available from RDC's web site is as follows;
From Monday 28 December, SITA crews will be collecting the bins which were unable to be collected during the week commencing 21 December. However, there will be no collections of compostables until the week commencing 4 January 2010.
Residents are asked to not leave their compostables bins out for collection until the week commencing 4 January, however, if resident's compostables bins are full before this time then compostable material will be accepted in the Non Recyclables purple lidded bin. Please note that this is a one off arrangement due to the disruptions that have been experienced and residents should by no means continue to put their compostables into their Non Recyclables bin after this time.
Not enough information though because it does not answer the questions asked by the Hawkwell Resident above.
I don't think that residents will have a problem wth compostables being deferred until 4 January because there is not a volume of garden rubbish in the winter.  
I sense that residents are going to be disappointed that they are only going to get the catch up collection this week for non  recyclables and the recyclables, which abound over the festive season will be overflowing to the old blue bins and to sacks.  The only problem isthat despite a request from RDC everybody is still using black sacks for all overflows.  So what will happen?  Will the black sacks be rejected?  And left for another non recyclable run  next week despite being filled with recyclables?   
Can't even ask RDC online because on the Council's own website, residents comments have been turned off it seems to "private" on the 'bin news' article !!
The Official line is " RDC will continue to update the website as soon as we have any further information, or you can check the local press or please feel free to ring our Recycling Team on 01702 318 111 or call SITA on 01702 533 880 for updates."

Echo 22nd December 2009
POLICE are to target gangs of youths who are coming into Hockley from London to cause trouble.
Youths have been travelling for miles to get to Clements Hall leisure centre and are causing havoc on Friday and Saturday nights.
This has blighted the lives of local residents due to the noise, vandalism to cars, and general antisocial behaviour. Groups of local youths have also been attacked and robbed.
Chief Insp Glen Westley, of Rochford police, said officers would look to tackle the situation before it got worse.
They are introducing policing at the railway station and a metal detecting arch to deter anyone from carrying weapons. Mr Westley said: "We think there's a territorial thing developing and we don't want that to fester.
"We will be monitoring behaviour and contacting parents if we need to."
Most young people seem to be visiting from Rayleigh and surrounding areas, but some appear to be travelling from as far as London to congregate at the teen shelter at night.
These large groups often prove intimidating to people who live in the surrounding streets.
Hawkwell Parish Council chairman Vic Leach said: "We welcome the police initiative in combating this and wish them every success for the peace and quiet of our residents."
Whilst the title of this article is an opportunistic pun on the Dickens'  Classic, Tale of Two Cities,  the story here in Rochford could be a tragedy of epic proportions for two villages in Rochford District if Government Planning Inspectors allow the two appeals in Stambridge and Hawkwell. 
Also at risk is the whole strategic housing and development plan (Core Strategy) which is being put forward by Rochford District Council to another Planning Inspector the same time.
So why are two big developers challenging RDC through planning applications rather than the Core Strategy Consultation and Public Examination?
 Both developers have something to lose.
And so has Rochford District Council if an Appeal is allowed and an application for costs upheld.  These could run to 10's of thousands if not much, much more and the Council Tax we all pay either goes up or services are cut.
At Coombes Farm in Rochford/Stambridge the preferred Location in the Core Strategy does not appear to even include that site.  So if the Appeal was granted then this would add an extra 326 dwellings to those already proposed for the District by RDC.  
In Hawkwell the Christmas Tree Farm site could be chosen in the preferred Location called South Hawkwell but RDC only want to see 175 dwellings.  So if the Appeal was granted then this would add an extra 155 dwellings to those already proposed for the District by RDC.
A total of nearly 500 extra houses. And Stambridge would merge with Rochford and Hawkwell with Hockley and Ashingdon.
You would hope, wouldn't you that the Government would not allow developers to confound a democratic process of agreement of a Core Strategy by allowing developers to get round the system.  The Government should not and it could stop this nonsense if only it were to appoint the same Planning Inspector who is to examine the Core Strategy to also decide on these two planning appeals and hold the Planning Appeals to coincide with the Core Strategy Examination in Public. Will this happen?  Not unless enough residents write personally to Prime Minister Gordon Brown and get the public support of David Cameron and appeal for common sense.
If common sense does not prevail then all that is in prospect if these planning applications are approved at Appeal is another run of planning applications from developers deciding where they want to build not where RDC determines.
The Rochford District Council Core Strategy would be effectively in tatters because all this could happen and be decided before a General Election tipped for May/June. Even though the Conservative Party, if returned to Government, promises to repeal all of the housing targets then this would mean nothing.  So if refused planning applications were already approved in Appeal these could not be stopped. And there might be others with a "Leave to Appeal" which might also get through.
It is hard to avoid the sneaking conclusion that those with development interests don't already realise this.
The Government and the Conservative Party, Brown and Cameron, need to focus less on the General Election which will not help us in this invidious situation and get the Planning Inspectorate to tie all these decisions together and stop this exploitation of the system.   
Will anyone listen?  Only if you make them listen.
The Refusal of the David Wilson Homes Planning Application has already been Appealed to The Government.  
The Appeal for the 330 Dwellings at Rectory Rd / Main Rd / Clements Hall Way has been validated by the Planning Inspectorate and is in the initial processing stage. The Appeal reference no is APP/B1550/A/09/2118700/NWF.
Public Inquiry will be held on 27/04/2010 and could run for up to 4 days 
There will be an Inquiry in public in 2/3 months time.
Notifications from the District Council are about to be sent out to residents, Councillors and other interested parties.
 
This will advise residents that their previous letters received will be forwarded to the Inspector.  But should they wish to comment further they are welcome to write to the Planning Inspectorate by 27th January.
 
The Christmas Tree Farm Appeal reference No. is APP/B1550/A/09/2118700/NWF. This should be quoted on any correspondence to the inspectorate concerning this appeal.
 
Given the level of public interest RDC is currently establishing how best to make the appeal papers available electronically for the public inspection, perhaps with a quick link, over the  Council's web site.  This information in the first instance will comprise an Appeal Form completed by the Applicant and the stated grounds of appeal.
 
The Appeal for the 326 Dwellings at Coombes Farm has also been validated by the Planning Inspectorate and is similarly in the initial processing stage. The Appeal reference no is APP/B1550/A/09/2118433/NWF.
 
I will advise you soon where this information can be inspected.
From Brian Guyett, Chairman of  The Hockley Residents' Association
The Hockley/Rochford area (postcodes SS4 and SS5) has had 7/8, fairly brief, power cuts over the past three evenings.
 
EDF say the problem its likely to be a loose connection or a snow-laden tree brushing against overhead wires tripping a circuit breaker.  Their priority is people still cut-off since Thursday(!) and they have no one at present to walk the lines to check for a fault.
 
Anyone who spots a possible problem to report it to EDF (08007 838 838).
A bad year for EDF see also 3258 houses without power in November http://www.echo-news.co.uk/news/local_news/rayleigh/4731428.3_258_homes_left_without_power_after_electricity_fault/
'Muntjac in Winter', Hawkwell
A Christmas Card from The Rochford Independent
Enjoy the Festive & New Year Holidays !! 
The forecast snow storm came as predicted at around 9 pm on Thursday, 17 December and in just a half an hour had brought down a high voltage cable in Rectory Road plunging 500 houses into darkness and bitter cold for 15 hours.
The Rochford Independent contacted the Emergency Planning Officer at RDC as soon as the Council opened because telephone lines to EDF had been jammed since the night before and no one knew what the situation was yet alone having news on BBC Essex, Essex FM/Heart.
The EDF Team was not on site until 12 hours had passed at 9.15 am and there was to be an update at 11.30 which was to be put on BBC Essex. But thankfully the power was restored within another 3 hours at 11.45 to save the elderly in our community a bitterly cold second night.  You can have winter fuel payments but they don't help if the electricity supply fails.
Our thanks to RDC and EDF but why couldn't EDF have prioritised 500 homes and 1000 residents, of whom 20% are vulnerable and need to maintain warm homes?
According to BBC Look East this evening, EDF has only just brought in extra crews. Surely as the Severe Weather Warning was made then EDF should have already had crews on standby? Well, Yes.
If there are any roads still not restored please let us know.
A bad year for EDF see also 3258 houses without power in November http://www.echo-news.co.uk/news/local_news/rayleigh/4731428.3_258_homes_left_without_power_after_electricity_fault/
Published by The Rochford Independent for Councillor John Mason
As I have said in another recent article my congratulations  to residents in achieving firstly, a reduction in the proposed quantum from 330 to 175 in the Core Strategy and secondly, by convincing Rochford District Council to refuse a subsequent planning application for 330.
But there is much, much more to do if the wishes of the majority of residents are to be finally achieved .
Rest assured that I will continue to use every opportunity in Council to represent the interests of the majority of the residents of my Ward. 
There are things that I think that our local residents groups could decide to do now and over the coming months. 
I would welcome their continuing support.
The Submission Version of the Core Strategy has been subject to Public Consultation and it proposes a quantum of 175 dwellings.  I realise that many residents wish to see a Zero option.
Whilst the Council could make changes to the Core Strategy before it is submitted to The Secretary of State I consider it improbable that this will be amended.
 
The Council will publish its Allocation DPD soon which will declare specific sites for the quanta put forward in the Submission Version of the Core Strategy. This should be subject to public consultation and this should be an opportunity for residents to put forward their views on the chosen site or sites.  But if residents disagree then the best approach would be a professionally prepared and argued essay on why the site or sites put forward in our area are not the best sites which should be chosen in our area, recommending others in our area or recommending that there is a replacement site elsewhere which is more suitable or sustainable.
I have made suggestions in meetings of the Council's LDF Sub Committee (Planning Policy) but these have not been supported and I believe that without overt and active public support the alternatives will not be considered again.
 
Assuming that "The Residents Group" still have sufficient funds available from those raised from the public to fight the DWH Planning Application they might like to consider commissioning work by their planning consultant.
I wonder if they have considered the following strategies?
 
If it is not possible to come up with an alternative placement of the allocation for Hawkwell elsewhere I would prefer to see no further large single development in Hawkwell because of infrastructural issues and rather see the 175 quantum spread in smaller developments.
 
Could the planning consultant suggest a more sustainable site elsewhere in the District? 
Or be asked to come up with a series of sites in Hawkwell to accomodate 175? 
Hawkwell Parish Council could be the sounding board for suggestions. There is also the emerging Hawkwell Village Plan Group which meets on 15 December.
 
But time is very short because the Allocations DPD will be published soon.
 
If a single site strategy is preferred then please read on.
 
Is the Magees Mushroom Farm a better site for 175 dwellings?  The site was put forward in response to the Council's Call for Sites so it could be chosen by the Council without having to exercise compulsory purchase provisions.  It is arguably a brownfield site.  Brownfield sites should be given priority for development according to the Core Strategy. Currently I understand it is used mostly as an industrial multi tenanted site where ECC is quite happy with the access. But Residents in nearby Windsor Gardens and Rectory Road should  be consulted before a planning consultant was asked to undertake an evaluation.
What else could happen over the next few months?
 
David Wilson Homes could formally Appeal against the decision for Refusal.  This Appeal will be heard, most likely at a Public Inquiry, which will last as long as 5/7 working days or more, at which "The Residents Group" could commission a professional to represent the community again and make a submission of evidence and argument against the Grant of Planning Permission on Appeal.  The Council will defend its Decision but it will help if "The Residents Group" having taken such a prominent role will also defend the position.
 
The Applicant could submit a revised Planning Application.  There is no way of knowing what, when or how.
 
Finally there will be the opportunity for "The Residents Group" to commission a professional to represent the community and make a submission of evidence to the Public Inquiry which will be held next year as a public examination of the Core Strategy.
The following paragraph was edited on 11 December when Shaun Scrutton sent me an email pointing out that a Parish Plan was not a DPD as I had previously thought and had misunderstood.
One further thought.  There is now, I understand, a Committee of residents who volunteered to take the responsibility for producing a Hawkwell Parish or Village Plan.  This will chart the future vision of development in Hawkwell.   There is a public meeting I think on 15 December but Hawkwell Parish Council can provide anyone interested with the details.
A Parish Plan cannot have the status of a DPD.  LPAs should pay close attention to the contents of a non-statutory plan produced by local communities as part of community involvement process, and Parish Plans may be adopted as Supplementary Planning Documents if the body preparing the plan works closely with the LPA from the outset, but they cannot become DPDs.
The Rochford Independent congratulates the individual residents who made written representations to Rochford District Council and to the organisations which ran campaigns of objection, namely The Hawkwell Action Group (HAG) and The Hawkwell Residents Association.
The David Wilson Homes Planning Application was Refused Permission last night, 3 December 2009, by the unanimous recorded vote of District Councillors present at the Development Control Committee.
One of the Ward Councillors, John Mason, led the debate having heard a presentation by Officers, and speeches by Mr. Hull on behalf of the Applicant, Parish Councillor Myra Weir on behalf of Hawkwell Parish Council and John Dagg QC on behalf of The Hawkwell Residents Association.
The leading speech given by John Mason is published here.  Around 60 residents from Hawkwell including Committee  Members of The Hawkwell Action Group (HAG) and the Chair and Vice Chair of The Hawkwell Residents Association were present to hear the debate.  
Speech
Thank you Chairman. Thank you for recognising my very early indication that I wished to speak on this application.
I would like to acknowledge and thank so many residents from Hawkwell especially for coming along tonight and see how decisions are made on planning applications. I am going to speak about the planning application tonight and not the detail of the Core Strategy.
I assume that most people are here because they object to this proposal.  I have received nearly three hundred communications in the form of letters, emails and telephone calls as well as a petition. Only two were in favour and one of these was anonymous and unsigned.
The main reasons from objectors are as follows;
Travel
– limited public transport
– increased car use causing heavy congestion
– inability to improve highways
– distance from shops
– distance from rail stations
Environment
– semi rural location unsuitable for large development
– complete loss of character
– loss of green belt
– loss of wildlife
Some of these have been carried through to the Recommendation from Shaun Scrutton for Refusal.
We have heard from John Dagg QC tonight who has been engaged by The Hawkwell Residents Association and I am sure that all Members have appreciated the additional input to the decisioning process.
Mr. Dagg referred to the concept of separation of settlements. I am greatly interested in this concept which I have recognised over many years as coalescence.  Do we have a policy on preventing coalescence of our villages by development?  I thought we had but I cannot find it.  Or do we need a new policy in our Core Strategy?  I would ask Mr. Scrutton to tell me the policy reference.
There are some other issues that I wish to raise which have concerned me when I was analysing the proposal.
The first concerns the Traffic Asssessment.  It does not take into account the additional impact on the roads directly affected by this application by the expansion of Southend Airport and the other developments proposed in the Core Strategy which will send traffic down these roads. I am told by Shaun Scrutton that this is the way that all Traffic Asssessments are conducted and that they all have this caveat. I think that is wrong and at some stage I expect to be able challenge a Planning Inspector to consider this as being a flaw in the British Way.  It is nonsense to my mind.
The second is that I am surprised that there is no reference in the terms for Refusal to PPS3 – The Government Panning Policy on Housing. I have read this cover to cover. I did not think that the application was wholly compliant with PPS3 in several material ways. But I am not a qualified professional planner and I have to be guided on technical matters by our Officers. These are the areas.
PPS3.  Is it easily accessible and well-connected to public transport?
My emphasis is on well-connected.  Hawkwell West is not by bus, by cycle paths (what is the point of cycle paths on a development if they connect to nothing) 20 minutes walk to a rail station so people use cars and increase car journeys.
PPS3. For smaller sites, the mix of housing should contribute to the creation of mixed communities having regard to the proportions of households that require market or affordable housing and the existing mix of housing in the locality.
Mr. Hull for the Applicant referred to the fact that Council must comply with policy to provide affordable housing.  I will talk about this too.
The position is that this community of Hawkwell West does not have need for a "mixed use and high density development" and the evidence for this is that the proportions of households (from The Office of National Statistics) indicate that 66% are unlikely to require market or affordable housing based on the population profile and projected needs.
I would ask Shaun Scrutton to advise why these are not included in the Report.
I was also particularly concerned about the "Village" part of the development which proposes densities much higher than the surrounding area and in my judgement PPS3 does give us some arguments about non compliance here in PPS3 .  But the idea of a number of buildings throughout the development over two storeys is of greater concern and I am pleased that these are a reason for refusal.  If that is also the way that community benefit can only be provided in the terms of doctors, dentists, health centres then that is inappropriate and unwelcome.
The ECC Urban Design Consultant is still against the revised outline design put forward.
Whilst I congratulate the Officers for their excellent report there is a material matter in terms of History which has not been cited or explained.  I have seen a letter from RDC to a resident which confirms that at the time of the Inquiry which led to the agreement of access to CHLC creating Clements Hall Way that the Planning Inspector decreed that there should be no development of green belt directly to the West of Clements Hall Way.  Why has this not been mentioned?
At the same time it is inferred from the anonymous letter that I received that a Local Plan Inquiry in 2005 found that this land met all the criteria for release from green belt for 365 dwellings.  Is this true?  What is the status of that? 
With regard to flood issues I cannot argue with the findings of the Environment Agency which are now apparently withdrawn but I'll keep my rubber dinghy in the shed in case I have to rescue anyone if this turns out to be wrong.
The anonymous person who wrote to me thinks that the land has no intrinsic agricultural value.  That might be so or not so but that is no reason just to accede to development and there are alternative uses in spatial planning terms.  Not least of these is to promote and conserve biodiversity, and rural/semi rural characteristics which is valued by residents.  Some could describe this land as derelict but even the applicant recognises the extent and value of the biodiversity it supports.
I wish to thank the Applicant for agreeing with my private capacity approach to them to save 20 non indigenous deer on the site and to provide additional warm nurseries for the bats in new buildings should any development proceed in the future.
Once again I reiterate my comments about coalescence and I see that it is very appropriate to see our village settlements remaining separate, unique communities within the umbrella of the Rochford District.
I leave it to Shaun Scrutton and the Portfolio Holder to deal with the challenge made by Mr. Hull for the Applicant in his speech about the 5 year supply of developable land.
 
I am now going to formally move the resolution for Refusal as set out in the Addendum and I hope that there is a seconder.
Councillor Chris Black seconded.
As Councillor Cutmore said on another application "we are the place shapers for Rochford not greedy developers" and there is no doubt that this application is premature in terms of the Core Strategy and a primary reason for Refusal which can be used as determined by PPS3 provided that there are other material reasons.  This is a speculative action by the developer but it could also be described as greedy.
 John Mason
3 December 2009
Dear Councillor Mason
 
To confirm our discussion and my advice to you which John Honey as Monitoring Officer has affirmed, there is a clear distinction between Council Members' participation in the Core Strategy deliberations and the consideration of a subsequent planning application.  The key issue for the purposes of the code of conduct is that you keep an open mind in respect of the planning application and do not made public statements on those proposals, in advance of the formal consideration, that gives the appearance that you have already made up your mind on that matter. In the circumstances I do not consider you would be precluded from participating in the determination of the planning application .
 
Kind Regards
 
Albert Bugeja
Head of Legal Services
Rochford District Council
and Deputy Monitoring Officer
The Council is required by law to appoint one of its employees as its monitoring officer. Rochford's Monitoring Officer is:
John Honey, Corporate Director (Internal Services)
The Monitoring Officer has a statutory role, with a number of specific functions including issues relating to ethical standards. Rochford's Monitoring Officer works closely with the Chair of the Standards Committee.
The Monitoring Officer acts an adviser to the Standards Committee, which involves:
•Making sure that the Standards Committee understands its powers and procedures;
•Making sure that the procedure for dealing with complaints is fair and efficient;
•Making sure that the councillor who is the subject of a complaint understands the procedures the Standards Committee will follow;
•Providing advice to Standards Committee about law and procedures when complaints are being dealt with.
Rochford District Council Officers are recommending that The Development Control Committee refuse a Planning Application from David Wilson Homes for 330 new houses in Hawkwell on the site known as the Christmas Tree Farm, Rectory Road and Thorpe Road.
The Hawkwell Action Group has advised residents by leaflet this weekend that Mr. John Dagg QC will also be speaking on behalf of residents who have campaigned over several years against a proposal from either the Council in the form of its Core Strategy or this specific planning application.
The decision will be made by Councillors at the Civic Suite in Rayleigh commencing at 19.30 hours.  For residents unable to get into the Council Chamber the debate will be broadcast outside in the front of the building.
Here is the Recommendation for Refusal. (The full 60 page Report is here.)
RECOMMENDATION

It is proposed that this committee RESOLVES to REFUSE the application
for the following reasons:

1 The proposed development of up to 330 residential dwellings and associated
infrastructure would not accord with the adopted development plan – the
Rochford District Replacement Local Plan (2006)- and would also not accord
with the emerging Core Strategy submission which is currently at an advanced
stage with submission to the government scheduled to occur before the end of
2009. There are no material planning considerations which indicate that this
proposal should be determined favourably and not in accordance with the
adopted development plan.

2 The Rochford District Replacement Local Plan (2006) shows the site to be
within the Metropolitan Green Belt .Within the Green Belt as defined in
Planning Policy Guidance Note 2: Green Belts, planning permission will not be
given for inappropriate development, except in very special circumstances. The
proposal by way of the excessive number of dwellings over and above that
advocated in the emerging Rochford Core Strategy would result in
inappropriate development leading to the unnecessary urbanisation and over
development of the site to the detriment of the open character and appearance
of the location.

3 Notwithstanding the indicative nature of the submitted layout, it is considered
the development would result in an overall form of development
uncharacteristic and poorly related to the surrounding development pattern.
The lack of integration by design and lack of sensitivity to the semi rural
character of the site locality would fail to become part of the greater area of
which it would adjoin to the detriment of the visual appearance and local
distinctiveness of the area.

4 The proposal by way of the introduction of three storey built form in prominent
positions in the locality would provide a sharp contrast to the notable single
storey character of the Rectory Road and Thorpe Road areas, that would, if
allowed, prove over dominant and ill-fitting alongside established dwellings
failing to respect local distinctiveness to the detriment of the character and
appearance of the site locality.

5 As far as can be determined from the submitted plans the proposal includes
the upgrade to adoptable standards of a section of Thorpe Road. This would
encourage the inappropriate use of Thorpe Road by vehicles wishing to bypass
the B1013/Rectory Road junction. The movement of vehicles associated with
this use would lead to conflict and interference with the passage of vehicles to
the detriment of that principle function and introduce a further point of possible
conflict, being detrimental to road safety.

6 It has not been demonstrated that there are no reasonably available alternative
sites in areas with lower probability of flooding that would be appropriate for the
type of development proposed and therefore the application in relation to that
part of the site within Flood Zones 2 and 3 fails the sequential test as required
by paragraph D5 to PPS25.

7 The Flood Risk Assessment is considered inadequate in that it has indicated
that the surface water system shall be split into two systems. It has been
demonstrated that surface water shall be attenuated on site for the 1 in 30 year
storm event with an oversized pipe system which may be adopted; and the 1 in
100 year storm event contained within the private systems on site. This would
be acceptable in the outline stage of planning however confirmation should be
offered by the Authority as to who shall adopt the 1 in 30 year storm event
system. If this information is not obtained then confirmation relating to the
responsibility of future maintenance should be included.

8 The surface water drainage system being split into two areas has been stated
as having a run off rate for one area of 58 l /s while the other has 53 l/s rate. It
is indicated in paragraph 6.14 within the Flood Risk Assessment that the flow
shall be matching the 1 in 100 year rate. The Flood Risk Assessment is
inadequate in that the site should in fact mimic present rates. This means these
rates should be no higher than the current 1 in 1 year rate during 1 in 1 year
storm event and the development would if allowed result in surface water
flooding.

As a Ward Councillor for Hawkwell West I will be speaking at the Development Control Committee on Thursday evening, 3 December.
 
As you know I have by the Code of Conduct still to remain impartial until I have received the benefit of the Presentation by Officers on 3 December and listened to the Public Speakers registered with the Council.  I understand that Mr. John Dagg QC will be speaking on behalf of residents and that most likely he will be addressing the concerns of objectors.
 
I know that it must be very frustrating for everyone to see an elected Ward Member still not being able to comment especially when The Council has published an Officer recommendation for Refusal.

So What Do Councillors do when they cannot comment?

Firstly they listen to both objectors and supporters.
 
And  I hope that everyone can appreciate that I have read the whole application very carefully over many hours and asked many questions and received answers and advice direct from Shaun Scrutton who I have exchanged emails with and engaged in detailed and lengthy telephone conversations. I have also undertaken my own detailed review of the planning application against Government Planning Policy Statement 3, Housing, PPS3.

I can assure everyone that I have prepared very fully in order to participate in the debate and the vote to determine the decision. But as the HAG leaflet says that you read to me the position is that despite the recommendation the decision is determined by a majority vote of Members present and able to vote.
 
You also may not know that I have a personal interest in ecology by virtue of my first degree and election as a Fellow of the Linnean Society of London.  In my private capacity as a Fellow I have had a conversation with another Fellow who is an expert in Bats. Because Shaun Scrutton advised me that I could not pass the thoughts from this initiative to the Applicant via the Council, because only the EWT and Natural England have the status of Official Consultee to determine or negotiate ecological actions, I engaged directly with the Applicant's Consultants in my private capacity. As well as the Bats I also raised concerns about the deer present on the development site.
 
You might like to see, the reply and proposals made by the Applicant in response to my initiative. It is here.

I have also spent time during my enforced interregnum answering many questions from The Hawkwell Action Group and residents about planning procedures which I hope has been helpful.
From the Echo 19 August
RESIDENTS have given a "resounding thumbs-down" to a council plan to revamp Hockley, a pressure group says.
The Hockley Under Threat campaign was set up by neighbours in response to the Hockley Area Action Plan, which aims to revitalise the town centre with new shops, a smarter look and more homes.
Earlier this year, Rochford District Council asked residents what they would like to see. But many complained they were unaware of the plans.
The group's committee has examined more than 250 responses to the plan and found 77 per cent were against.
Of the 253 responses, 195 were opposed to the plan and ten expressed support, while the remaining 48 were general comments.
Gabrielle Yeadell, chairman of the group, said: "Rochford District Council had put forward an area action plan with no visible notification to traders or residents.
"A public meeting was held in Hockley on April 19 where the majority objected to the plan.
"The group was formed to raise awareness of the plan and to work with other organisations to make clear to the council the plan was unacceptable in its current form."
The council put forward six options, all of which included redevelopment of the town centre and building 100-150 flats.
Some options suggested redeveloping the Eldon Industrial Estate, moving businesses from the park and creating a new town square in Spa Road, near the junction with Eldon Way.
Keith Hudson, district councillor for planning, said: "This was a consultation document, not a plan.
"We wanted positive feedback indicating people's preference. We want to draw up something that suits residents and businesses and come back with something to please the majority of people.
"Without such a blueprint, it will be difficult to resist applications which have no place in a village centre, such as a huge supermarket."
Mr Hudson said residents had been notified of the proposals in the council magazine, Rochford District Matters, in a presentation to Hockley Residents' Association and at the council's west area committee meeting. He said there would be further consultation next year.
Daily Mail, 1 August 2009
Bob Holloway, who runs the pension scheme for local government workers, has warned the gold-plated final salary schemes are no longer sustainable because people are 'refusing to die'.
Local authorities are facing a £50 billion shortfall In their pension pots after recklessly investing taxpayers' money In shares and hedge funds.
The respected Public Service Journal reported that officials are considering a number of ways to tackle the deficit, including raising council tax.
They are also looking at increasing employee contributions, raising the retirement age or cutting public services. Another proposal could see public servants' pensions based on career-average earnings rather than final salaries.
Mr Holloway said reform was urgently need to tackle concerns about a 'pensions apartheid' between state and private sector workers. He said: 'The local government pension scheme is under threat. Something has to happen -things may even happen before a General Election.'There will need to be something more major than a sticking plaster. Unfortunately, people are refusing to die.'
Accountants Price Waterhouse Coopers say council tax would need to rise by £2,000 per household to plug the gap.
A spokesman for the department for Communities and Local Government said; 'No changes have been proposed. There is simply an informal consultation going on with scheme administrators.'
The developer is David Wilson Homes which is part of Barratt Developments PLC.  Site Map
Rochford District Council has put forward a plan in its Core Strategy for 175 new dwellings in Hawkwell whilst David Wilson Homes is actually preparing a Planning Application for 370 houses on one of the potential sites that have been suggested to the Council.  Confused, Yes you have every right to be !!
At the same time, The Hawkwell Action Group, which is believed to have at least 300 active supporters, will also no doubt be letting them both know what it thinks about their conflicting proposals !! And also the public.
This is a unique position.  Both developer and residents seem to be saying "Thank You, Mr. Council for your Offer but NO DEAL !!"
But first a legal statement from this site. Because there is now been an pre-announcement of the submission of a  Planning Application the law says that all district councillors, because they make decisions on planning applications, have to remain impartial and open minded to hear all views put forward.
John Mason, the site publisher who is the rochford independent, has contacted The Hawkwell Action Group  to just assure residents that the proposal for 370 houses is definitely not a "done deal".  If a Planning Application is submitted then it will be considered on material planning issues just like any other.  Even the 175 being put forward by the Council in its Core Strategy is the subject of consultation which residents can participate in. It will be helpful if, when contacting the Council or the Developer, that you could contact John and let him know what you think so he also knows what you views are before he speaks in Council !!
Our major local paper, The Southend Evening Echo, as well as having interviewed local residents and District Councillor, John Mason,  has commented today about the proposal in pragmatic terms and explained what the paper sees as the background and strategy behind the David Wilson Homes exhibition, consultation and the ultimate planning application which is believed could be submitted before 9 September 2009. This is the same date on which All Members of Rochford District Council meet to approve their Core Strategy, Submission Version which puts forward Council's vision for just 175 new houses in Hawkwell and not 370 as the developer is applying for.
Echo Front Page on 28 July 2009
If the Planning Application for 370 houses is submitted then the Council will have 13 weeks in which to make a decision. If the planning application were submitted in early September, and found to be complete or "validated",then a decision would have to be made by early December. But that would be before the Council has even announced it's decision on what site in Hawkwell West should be developed together with its own concept design for the site chosen. It might or might not be this one.
There are even more conflicting dates.  The Council's public consultation on it's Core Strategy recommending just 175 houses is likely to commence on 16 September and last for only 6 weeks.  At the end of the 6 weeks it is expected that the Council will submit it's Core Strategy for Examination in Public by a Government Inspector.   And that is really conducted at a public hearing or inquiry over several days in 2010. Only then could the Council's Core Strategy be adopted.
The Echo said in its article  "They [developers] hope if councillors reject a scheme because of the local plan, it could get approved by a Government inspector on appeal."
The Examination in Public by a Government Inspector will not happen until 2010 and subject to when he/she publishes any changes required the Council is unlikely to be able to adopt the Core Strategy until later in 2010.  It is likely that the June 2010 latest date for the General Election will come first unless the General Election takes place earlier.
So would any proposal in Hawkwell be squashed anyway? Who Knows?
Here is an article which discusses what the Conservative Party nationally has announced as to what it might do to the Core Strategy if returned to Government in a General Election. 
Please also see the letter received by councillors from Hard Hat Communications dated 24 July 2009 on behalf of David Wilson Homes which is part of part of Barratt Developments PLC (Barratt Group).
Technically this pub is in Hockley Parish and representative RDC Members are from Hockley Central Ward although there is a Licensing Committee which makes decisions where applications receive objections. 
The boundary between Hockley and Hawkwell runs down the middle of White Hart Lane.
Outdoor Music was recently permitted by Rochford District Council under what is called a Temporary Event Notice. The noise concerned some residents.
The White Hart has now applied for a new premises license. This comprises 37 Activities including Performance of Live Music, Inside and Out.
Written objections had to be in by 10 July 2009.  There were only 8.  This allows these people to appoint others to represent them if they wish at the Hearing. Of these 7 residents live technically in Hockley Central Ward and any of the following councillors could speak for these residents.
Cllr Mrs C A Weston 1 New Hall Road Hockley Essex SS5 5JT   
Cllr K H Hudson Lower Hockley Hall Farm Lower Road Hockley Essex SS5 5LT
Cllr  J Thomass 2A Hamilton Gardens Hockley Essex SS5 5BU
Only one objector was from Hawkwell West and that objector has chosen a representative other than one of the District Council Ward Members for Hawkwell West, John Mason or Derrick Stansby.
John Mason lives more than 1 km from the pub so cannot object personally either.
The Council has exercised discretion in allowing written objections to be made almost up to the hearing date of 30 July which will be at the Civic Suite in Rayleigh at 10.00 am.  But late objectors cannot speak nor appoint a representative to speak.
About 4 years ago following complaints from local residents about motorcycle riders getting on to the recreation ground at Clements Hall, I got involved with asking for a proper fence to be put across the end of Hawkwell Park Drive, together with a proper gate to allow prams but not motorcycle to pass.
Unfortunately that meant that horseriders could not access the bridleway running from Hawkwell Park Drive to Park Gardens and onto another route.
This was an oversight and the Council consulted with ECC and Hawkwell Parish Council.  It was discovered that there was not a safe route anyway from the bridleway crossing and adjoining Clements Hall Way/Spencers Park to Hawkwell Park Drive through the grounds at Clements Hall.
Hawkwell Parish Council offered an extension on the boundary of Spencers Park and there still needed to be a further new bridleway extension from Spencers Park to Hawkwell Park Drive within the grounds of Clements Hall.
Is this too expensive in the present economic climate or good value for money?  I would be interested in your views.
Non-Collection of Contaminated Bins is something that everyone wishes to avoid. 
But this is becoming a serious matter because I have been advised that Rochford District Council had 111 tonnes of contamination in May compared to 650 tonnes of dry recycling and this is costing in the order of £8,000 per month.
Recycling Officers from Rochford District Council have been going out with the refuse crews and ensuring that the dry recycling bins are free from contamination.
In many cases they have then been able to respond directly and distribute a letter and information leaflet.
In addition, the refuse crews have been using the advisory stickers on the contaminated bins and these have then followed up these initial contacts with a letter from the Council and further advice.Apparently there have been several hundred of these instances each week !!
The more seriously contaminated bins are rejected and this has upset some residents.  
The Do's and Don'ts are here and here.
If any resident needs help in understanding the Recycling Scheme please contact the Council Contractor on 01702 533880.