Essex County Council is currently consulting on its proposal to introduce 'part night' street lighting in the District from January 2014.
The County's consultation seeks views and particularly suggestions as to those areas which meet the exception criteria, advising of the location of the lights including street and settlement names and the reason for meeting these criteria.
So please let us know by emailing john@onlinemail.me.uk or christine.mason@rochfordessex.net
'Part Night' lighting , where the lights are switched off between midnight and 5am, was introduced in Maldon and Uttlesford Districts in 2007. It was introduced in Braintree and Chelmsford from 1 September 2013 and the intention is to roll it out across the remaining parts of the County in a phased way with Brentwood and Harlow being the last two Districts where it will be introduced from February 2014.
The County advise that 'part night' lighting brings benefits in the form of energy consumption and carbon emissions, a reduction in light pollution, and a more tailored, responsive service eg lights can stay on later over periods such as New Years Eve, etc. In Uttlesford and Maldon there has been no evidence to support the possible effects of such a move in terms of raising crime levels, an increasing 'fear of crime' or accident rates. Crime rates in both Districts have fallen broadly in line with the rest of the County since 2007 and surveys commissioned by the County show that the percentage of people who feel safe outside after dark has increased in both Districts over the same period.
The County propose that lights in areas meeting the following exception criteria will continue to be lit throughout the night. This amounts to around 30% of streetlights:
The criteria are:
Sites where there are a large number of conflicting traffic movements eg roundabouts which are on significant routes (generally where light columns are 6m or more);
Sites where lights have been installed as a result of accident remedial measures;
Town Centres where there is one or more of the following features –
i) publicly maintained CCTV;
ii) a high proportion of high security premises (eg banks,jewellers);
iii) areas of high crime risk;
iv)Areas where there is a high concentration of people at night e.g. Transport interchanges, nightclubs;
Main approaches to town centres where there is a mix of development between residential and commercial/industrial;
Sites where the police can demonstrate that there is likely to be an increase in crime; remote footpaths and alleys linking residential streets;
where there is a statutory requirement to provide lighting.

Photo by Craig MurphyBy Christine Mason (reflecting on Tesco, Southend, on Sunday 7 July 2013
This was one of the worst, most frustrating waste of times I have yet to experience.  The staggering indifference of the staff just added to the horror.  We decided to go into store for a few items but…………….the queue to get out had snarled up the whole car park.  However we were not aware of this until it was too late to turn back.
In the hope that things would improve we had a late breakfast (kind and helpful service even if food poor), then shopped.  The only saving grace was that the store was relatively empty and we could find things with ease.  At the checkout we enquired about the queues for exit and were advised that one car had spent 40 minutes  moving just a few car lengths and the average time was 2 hours to exit.  However this was not deemed to be anything to do with Tesco's and effectively hard luck.
With mounting concern we returned to our car.  It took over 15 minutes just to get out of the parking space.  Unfortunately we were to the rear of the car park and as no one was facilitating the movement of vehicles those at the other end were pushing out into the queue and those at the back, like ourselves consequently had an even longer wait.  Tesco's line according to the staff is that it is nothing to do with them.  Yes it is.
If they are aware of this, and we were advised it is a common problem in good weather, they could a) Advise potential customers BEFORE THEY GET GRIDLOCKED, sorry that might affect sales but at least a choice would be possible. b) Use staff to organise traffic attempting to exit to ensure both fairness and reduce the risk of prangs. c) Offer water to those trapped in the heat, especially those with young children.  d) Consider offering to hold onto food that is sitting getting overheated.  Tesco claimed to want to reduce its carbon imprint, jamming cars for 2 hours with engines running does not help reduce the carbon imprint however it may increase their petrol sales!
We missed the start of the tennis, wasted two precious hours of a weekend, and to add insult to injury we were overcharged by £5.98.  Will I be going back?  No.
Also I will publish my experience on rochfordessex.com so other local residents are aware of what shopping in Tesco's really entails.
Done…………………..
By John Mason


We had contemplated standing in the County Council Elections but to be honest Christine and I are too busy sorting out issues caused by the DWH Development for all residents.
We are only representing you as Independents at the District Council because we are local residents who care about our local surroundings and environment and we will continue to speak out for you.
What has stimulated this Article?
The Liberal Democrats have published their "Priorities" for candidates standing for Election to Essex County Council across the whole County of Essex.
(http://onlinefocus.org/?p=12668 "Essex Liberal Democrats – Our Priorities for the 2013 Elections")
All the County Wards or Divisions in our District are in contest from a wide range of candidates.
I am personally a voter in Rochford North which covers Hawkwell. Here is what I would wish ALL of the candidates looking for my vote to address.
There are 3,500 new dwellings agreed in the Rochford Core Strategy. Already 976 have been given planning permission in the Central part of the District.
Voters cannot see how the overall highways infrastructure can cope without major improvements.
Essex County Council is the Authority responsible for Highway improvement planning.
I do not know of a single other subject that ALL voters in our District want to see addressed as a Priority by a newly elected Administration at Essex County Council, whatever the political balance at the end of the election.
The roads in the Rochford District have not been strategically improved since green-space separated all towns and villages on the Shoebury peninsular (for want of a better name).
The development of Cherry Orchard Way (B1013) resulted in Hawkwell getting true through traffic avoiding the A127 congestion for the very first time.
The Hawkwell Parish Plan Group is so concerned that it has suggested that a Rochford Bypass should be reconsidered when planning to improve the current inadequate road infrastructure. I understand that many voters in Hawkwell support this. What are the County Council Candidates views on this?
As explained by the current Administration at ECC, "the current Essex Local Transport Plan (LTP) was developed in line with Department for Transport Guidance on LTPs. This LTP represents a significant change from previous LTPs. It is not a 5 year plan that sets out a specific programme, instead it is a long term document that provides the framework within which transport programmes can be developed."
The current Administration at ECC Essex County Council stated in an email to me on 21 December 2012 "On a local level every strategic development proposal is accompanied by a transport assessment, the scope of which must be agreed with the Highway Authority. This assessment considers the impact the proposed development will have on the highway network and includes industry standard forecasted growth (TEMPRO) to ensure a comprehensive approach that accounts for present traffic conditions (including any new and committed development) and future traffic growth."
The Highways Authority has evidently not looked strategically at the cumulative effect of traffic impacts of planned development through the Local Transport Plan and The Highways Authority will only address improvements in a limited piecemeal fashion on each planning application for development.
This is not good enough and voters will want to hear what the Parties contesting the County Council Elections are going to do about it.
Let us hope that it is not "Nothing" !!




Yes, the Question is "Will Changes in the Probation Service Benefit Local Voluntary Sector Organisations?"
The Coalition Government hope that will be the case.
National comment From the The Guardian, Wednesday 9 January 2013
"The Justice Secretary, Chris Grayling, is to outline plans for the wholesale outsourcing of the probation service with private companies and voluntary sector organisations to take over the rehabilitation of the majority of offenders by 2015."
"The public probation service is to be scaled back and "refocused" to specialise in dealing only with the most dangerous and high-risk offenders and public protection cases."
"The majority of services will be contracted out on a payment-by-result basis."
"While the public probation service will not be banned outright from bidding for the work, it will be expected to do so only in partnership with the private sector."
"The current arrangement in London where Serco and the probation service delivers the community payback or unpaid work contract is regarded as the most likely model."
Local Comment from the Rochford Independent
This seems to me to be a great opportunity for the voluntary sector organisations in Southend, Castle Point and Rochford to consider bidding for the resultant commissioning opportunities next year. These organisations may or may not have any experience of bidding or tendering for public sector outsourcing projects however it represents an excellent opportunity for the existing volunteers providing advice and placements for purely voluntary work, or the increasingly popular unpaid work contract to help CV's, to increase their own skills and provide their members or subscribing charities and operational voluntary groups with an increased source of human resources to do their work. The additional bonuses will be an income and funding from the public sector contracts that are won and the benefit of community guided rehabilitation to offenders.
I would like to see existing voluntary groups to benefit and provide this service in future rather than big companies moving further into the public sector with lucrative contracts which do not reduce costs. Hopefully the voluntary sector organisations in South East Essex will see this as an opportunity to marry their existing services to something new, adding value and ensuring their existence into the future because of falling grants from other public sector donor organisations.
I would like to see our Local Councils with experience in bidding and procurement giving the voluntary sector organisations help as needed.
To beat the private sector big companies they will all have to start right now negotiating and preparing for alliances otherwise they might lose out.
Rochford District Council in common with all councils, will have received a letter  from Eric Pickles, Secretary of State for the Department of Communities and Local Government, urging them to publish details of all spending over £500 in full and online.
In the letter Mr Pickles makes clear that transparency and openness should be the default setting for the way councils do business and calls on councils to speedily adopt this new approach. Councils are further encouraged to also publish information on salaries, job titles and allowances and expenses.
By September councils are expected to publish details of all spending on goods and services that fall above £500 for the public to see – 'from car hire to consultancy fees and from software to storage costs'. This should be a matter of course from the start of next year including publishing invitations to tender and final contracts over £500.
From BBC Essex News : Charged expenses peer Lord Hanningfield quits council
Lord Hanningfield denies the charges over his expense claims
Suspended Tory peer Lord Hanningfield, who is facing criminal charges over expenses claims, has resigned as leader of Essex County Council.
Lord Hanningfield, who has also stepped down from the Tory frontbench in the House of Lords, will be charged under the Theft Act, it has been announced.
He has denied the charges and said he would "vigorously" defend himself.
He said to allow him to defend the charges he had resigned as leader of Essex County Council.
"At the next meeting of the Conservative group on Tuesday 9 February the process to elect a new leader will start," he said.
Overnight stays
"I intend to remain active with the work of the council."
The council leader, whose real name is Paul White, is accused of "dishonestly" submitting claims "for expenses to which he knew he was not entitled" – including overnight stays in London.
He said: "All the claims I have ever made were made in good faith. I have never claimed more in expenses than I have spent in the course of my duties.
"To avoid any embarrassment or distraction for my party, I am standing down from my frontbench duties in the House of Lords with immediate effect."
The Conservatives said he had been suspended from the parliamentary party.
Essex County Council has announced it is cutting up to 275 managerial posts.
The cuts will be met through retirement, normal staff turn-over, voluntary redundancy and not filling existing vacancies, the council said.
The council said reducing the layers of management would help bring "quicker and sharper decision-making and… lead to enhanced local services".
It said frontline services would not be affected and it was working with public sector unions.
The proposed cuts represent 2.5% of the organisation's core workforce of 10,900 employees or 16.5% of the council's 1,648 line managers.
Daily Mail, 1 August 2009
Bob Holloway, who runs the pension scheme for local government workers, has warned the gold-plated final salary schemes are no longer sustainable because people are 'refusing to die'.
Local authorities are facing a £50 billion shortfall In their pension pots after recklessly investing taxpayers' money In shares and hedge funds.
The respected Public Service Journal reported that officials are considering a number of ways to tackle the deficit, including raising council tax.
They are also looking at increasing employee contributions, raising the retirement age or cutting public services. Another proposal could see public servants' pensions based on career-average earnings rather than final salaries.
Mr Holloway said reform was urgently need to tackle concerns about a 'pensions apartheid' between state and private sector workers. He said: 'The local government pension scheme is under threat. Something has to happen -things may even happen before a General Election.'There will need to be something more major than a sticking plaster. Unfortunately, people are refusing to die.'
Accountants Price Waterhouse Coopers say council tax would need to rise by £2,000 per household to plug the gap.
A spokesman for the department for Communities and Local Government said; 'No changes have been proposed. There is simply an informal consultation going on with scheme administrators.'
From the East Anglian Daily Times (EADT) here
ESSEX County Council leader Lord Hanningfield was yesterday reported to be under investigation after allegations that he may have wrongly claimed thousands of pounds in parliamentary expenses.
But the peer insisted he had done nothing improper and said a Liberal Democrat MP determined to blacken his name had made a groundless complaint to the police.
Mr Russell said he took Lord Hanningfield's claims about a Lib Dem MP to be a reference to himself.
He refused to confirm whether he had made a complaint to police about the peer, but said: "I have drawn to the attention of various authorities matters which I think are of concern which need looking at."
On allegations he was attempting to smear the peer, he said: "He's entitled to say what he wants.
My job is to unearth the facts as I understand them and present them to the appropriate bodies to look at."
From a paper submitted to the Cabinet of Rochford District Council.  The full paper, Strategic Countywide Economic and Housing Issues, can be downloaded here.
"Essex has traditionally taken a significant proportion of economic and housing growth without benefitting from the necessary infrastructure improvements to enable growth to take place in a truly planned and sustainable manner. The paper estimates that the cost of delivering the supporting infrastructure across Essex is some £7.6 billion, with an identified funding gap of £6.5 billion. If Essex is to continue to deliver the levels of development anticipated, then this gap needs to be closed and greater levels of infrastructure investment achieved."
There is a huge dependency on transport (highway) and other infrastructure identified in the Rochford Core Strategy.  The Rochford Core Strategy advises that other authorities are responsible for providing this. Clearly with this level of funding gap across Essex which is unlikely to be closed due to the present economic climate it follows that it would be unwise to rely on the infrastructure which is identified in the Rochford Core Strategy actually being provided.  So does the Rochford Core Strategy look unsustainable?
Did the County Council Elections prove to be the best place for important questions of policy to be answered by the existing political administration and its political challengers? Did you get the chance to even ask? Did any of the candidates ask them for you?
Faced with promises from David Cameron that Council Tax could be frozen did any of the other parties put them on the spot and extract a local commitment from the Conservatives running Essex County Council?
Well No !! 
And did anyone tell us the answer to this question "When will we get anything on improvements to cope with all the extra planned housing?"
What was the view of candidates on the London Southend Airport Plan and transport?
Talking to residents in my Ward post the elections revealed that these questions were not even asked yet alone answered.
The Local Transport Plan is the responsibility of Essex County Council.  The Department for Transport says that it wants local transport planning to be seen as a vital and essential public service – a service that can be relied upon not just to solve problems, but to deliver opportunity for all, and to enhance quality of life.
The Local Transport Plan is a long term plan which sets out Essex County Council's plans and policies for the future of transport in Essex. The first Local Transport Plan was a document containing the five-year programme from 2001-2006. The second Local Transport Plan contains the five-year programme from 2006-2011.
If you are wondering what's in the LTP's here is a link http://www.essexcc.gov.uk/vip8/ecc/ECCWebsite/dis/faq.jsp?channelOid=16819&guideOid=39939&oid=18098
So why was it not a feature of the elections?
The LTP is, I believe, not up for formal revision until 2011 which means that the Rochford Core Strategy will be in place before this is formally revised and any infrastructural changes that we think are necessary will not have been committed to in my opinion. The only hope we have is a General Election before The Rochford Core Strategy is finally put in place early next year because the Conservative Party has pledged to stop the housing development plans.
In the meantime, as residents, we have to do what we can to influence the LTP revision and the Rochford District Core Strategy in forthcoming consultations.
According to RDC "We are discussing the Core Strategy with officers at County Hall and will feed the results of those discussions into the Core Strategy to develop the material included in the appendix to the housing chapter. Bear in mind that the Core Strategy is only intended to set out the broad principles for the development of the district – greater detail will be provided in other development plan document, notably the Allocations Development Plan Document."
Essentially, the situation is still that each development will provide its own infrastructure under agreements with developers. It is going to be absolutely vital that individual Ward Members are as proactive as possible in giving input to the design statements for individual developments. A decision on sites will, I believe, come forward to Council in July but the detail in terms of Design Statements not till October. My greatest concern is that the Council is intending to give the task of an initial draft of Design Statements to the developers so that they will lead the process and carry most of the cost. In Chelmsford the Council employed consultants to initiate these and this is the better route in my view if residents are not to be railroaded by developers in the first draft.
So if you are not happy with the overall current transport infrastructure and the plans put forward for new housing say so in July.
And on individual sites in October.
David Cameron says in a leaflet, specifically and personally addressed to you and popped through your door during these elections, that "We've got plans to help people through this recession – like a council tax freeze."
See Leaflet here http://dl.getdropbox.com/u/1063718/davidcameron.pdf
In this case the Conservative Party can take this action right now and before a General Election because it is in majority control of many local councils,  all County Councils and so they can put in a local council tax freeze just as David Cameron has personally promised you.
But will they do it?
I think that the Conservatives in control of Essex County Council and Rochford District Council will have to run hard to explain convincingly enough that council tax could not be frozen if we continue to remind them of David Cameron's promises because it is going to be really hard to argue on the doorstep that a council tax freeze could not be put in before the next set of promises at the general election or next local elections in May 2010.
It's certainly a vote winner for whichever of the two major parties actually delivers on a zero council tax increase. All Labour needs to do is maintain the Grant to Local Authorities at the present level and then they can argue that any increase is down to local councillors, mostly Conservative ones across the country and certainly in our area.
It would be really daft if Labour cut the money provided to local authorities, wouldn't it?
Unless the unthinkable happens…………..David Cameron goes back on his word to you because he admits to the country that he made a big mistake? Didn't mean to do it now when it really matters?  Just a bit of spin perhaps?
Or perhaps he meant something else and all is not what it seems in the simple language that he used to get your vote !!
So what would it mean for residents of Rochford if it really meant that a council tax freeze can start right now?
The first year for decades that the Council Tax doesn't just go up by many percentage points regardless of what you think and a freeze providing real respite for families, young and old, who are under such financial pressure.
But will they really want to do this? Well it shouldn't be too difficult anyway because there is no inflation rise required because the RPI is negative.
But any planned improvements in services would have to be shelved because we, the residents, can't afford it this year, next year or the year after.
Councils will have to work harder to make savings on services that still need to be streamlined,  make voluntary reductions in the inflated cabinet councillor allowances and expenses and no employee salaries rises, if they want to spend more on improvements.
Work would  need to be done between now and February on re-working the accounts and making any necessary savings. 
Will political parties say just about anything to get your vote? Yes, because they think that you will forget and there is always a explanation why they could not do it. Blaming the current Government perhaps? Not this time surely?  This is something that can be delivered.
This is a great opportunity for a political party to keep a simple promise and to prove that me and other cynics are wrong.
We must keep reminding them of what David Cameron has promised us.
But I fear that in the weasel words of politics that he will have an incomprehensible reason as to why his promise means nothing in practice.
Just empty promises.  But please keep voting for us !!
We saw this on the Rochford Lib Dems site and decided to run the story as well, which speaks for itself.
A CCTV camera erected at Nursery Corner in January was swiftly removed at the request of District Councillor John Mason.
It then took several weeks to find out what was going on and, by complete coincidence, this web site was brought down just as we were ready to publish.
Again the matter of the adequacy of our existng laws has been taken up with our MP but, as yet, there has been no reply.
Here is how the County Council explained.
Thank you for your correspondence on this matter and apologies for not replying to you earlier but I have been investigating the points you have raised.
 
It appears after an investigation that the traffic survey to which you refer was carried out on behalf of the potential promoter of the Coombes Farm site in Rochford and as such they or their contractors have responsibility to carry out this work in an appropriate and regulated way.
 
While it appears that a CCTV camera was placed on some street furniture owned by the county council, the company responsible did not seek permission from ECC and as soon as highways officers became aware, required the company responsible to remove it immediately. It is common practice for traffic data to be collected to prepare a Transport Assessment; traditionally this has been by way of people actually counting the vehicles passing the site. The use of CCTV technology to do the same job is relatively new.
 
We have subsequently been informed by the company concerned they comply with all the necessary regulations and implement appropriate safeguards. We are currently examining these issues very closely to ensure this is the case, as this method of data collection may well become more common practice.
 
If you have further concerns about the matter then I would suggest that you may wish to contact either the company responsible or the Information Commissioner to whom you can report the matter if you believe data has been wrongfully obtained.
 
I hope these answers the questions you have raised, as you can see Essex County Council was not involved in this exercise but I can assure you that we are looking very closely at the issues it raises.
 
Mark Lawrence
Strategic Development Engineer
Planning & Transportation
Westcliff Film and Video Club are about to start their new season. Nothing new there, it's happened every year since 1963. The difference, this time, is that the club has changed its name to, SOUTH ESSEX FILM MAKERS.
One of the premier film making clubs in the country, it now attracts members from all over South Essex and the name change is aimed at reflecting that. In fact the club has rarely held its meetings in Westcliff at all. Over the years they have used many venues including the County Hotel Eastwood, Hawkwell Community Centre and, for the last few years, Wyburns Primary School, Nevern Road, Rayleigh. That is where the new season will start, on Monday 29th September 7.45 for 8pm. Visitors and prospective members are always welcome. Once again there will be a full programme of Talks, Practical sessions, Competitions and members film nights.
The group are in the process of producing a brand new website but, in the meantime please visit the temporary one on:- http://www.sefm.org.uk/
A local puzzle enthusiast has scooped a £10,000 cash prize from the UK's leading Prize Competition organisers, Prize Magazines.
Sheila Watkins from Hockley in Essex was presented with the cheque for £10,000 by Prize Magazines owners Tony and Judy Lane after winning the main prize in a national draw being run through their seven magazines.
Sheila, who is about to start receiving her pension later this year, said "What a brilliant boost to my pension! I plan to share some of the money with my family, visit friends in Portugal for my sixtieth birthday and go on a dream trip to Iceland. I have already treated myself to a Nintendo DS too!"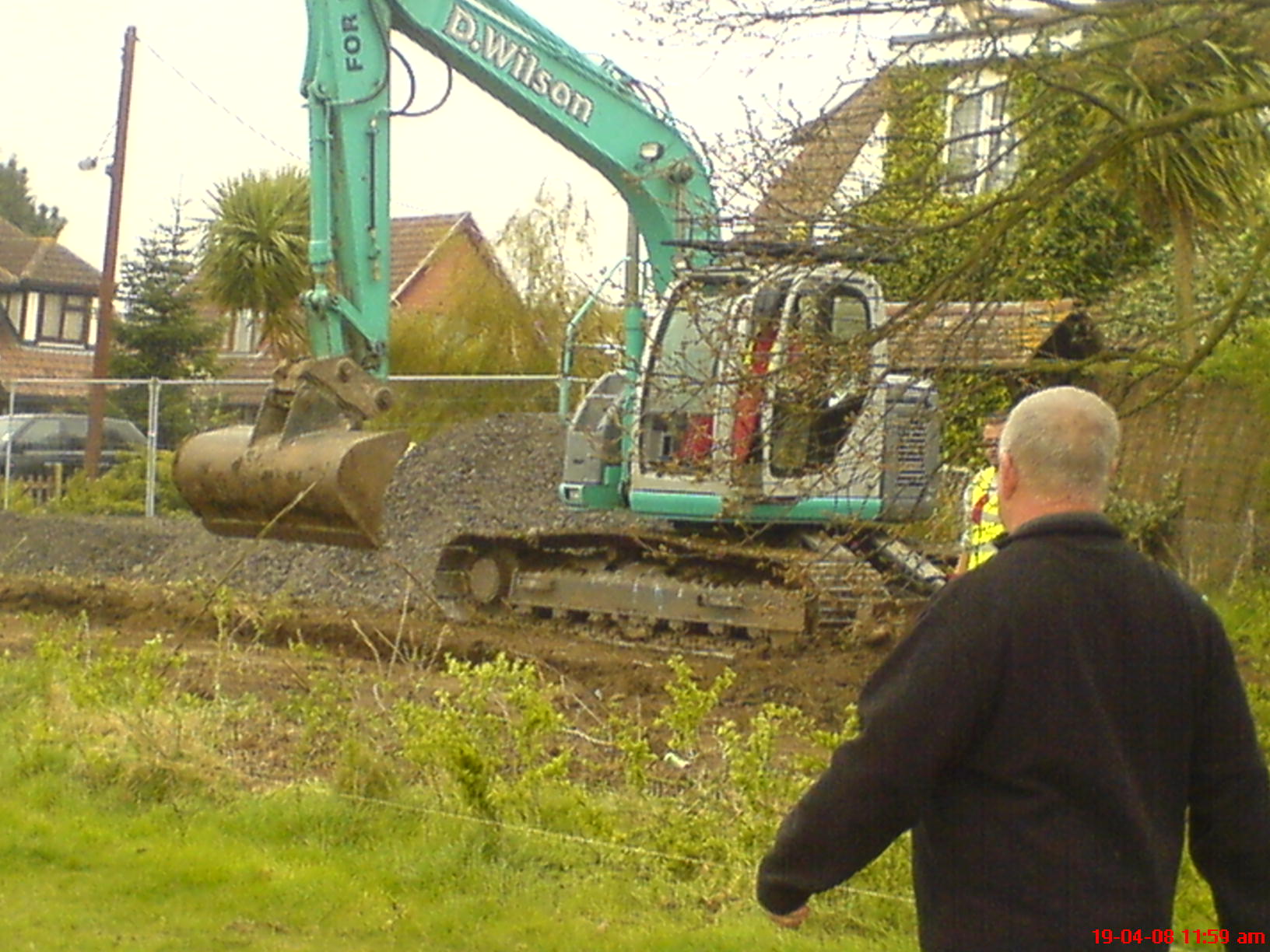 I was called out by residents early on the morning of Saturday, April 19 to the work being carried out by a developer on the land running alongside 63 Hawkwell Park Drive and Park Gardens.  I spoke to the Architect and Builder advising them that they were illegally diverting and surfacing a bridleway.  They refused to stop the work.
I contacted our County Councillor by email immediately and also Rochford District Council.
It has been confirmed by Essex County Council Records Section that the bridleway is almost entirely within the fenced site. The developer has been asked to move the fencing clear of this as a matter of urgency so that the boundary can be pegged out. Once this has been done they will be asked to reinstate the surface of the footpath and bridleway to a standard to be agreed with the Highway Authority.
The Rochford District Council Tree Officers, who were in attendance at the meeting, confirmed that the works around the TPO oaks were inappropriate and requested that the surfacing be removed from the entire area under the canopies of the two oaks as a matter of urgency.
This work is to be done by non-mechanical means (i.e. spade and wheelbarrow) and the paths are to remain open for use during this time with appropriate traffic management in place (eg men at work warning boards and plastic barrier). The surface in this area is to be reinstated to grass.
A planning application for residential building has been submitted to RDC and once it has been validated ECC will be looking carefully at it to ensure appropriate provision is made for the public rights of way.
Planning Policy & Transportation Committee – 3 April 2007
Review of Bus Services
Resolved
(1) That County Highways be asked to:-
– Explore with the local residents ways in which the transport link between the Dome and Hullbridge could be improved.
Planning Policy & Transportation Committee – 3 April 2007
-Explore ways of improving evening services generally.
-Explore the possibility of reinstating the No. 8 service from Hawkwell to Rayleigh during the week.
-Explore with the local residents ways in which the local bus services could be expanded to cater for people wishing to visit places of recreation from the Rochford District.
(2) That Central Government be lobbied to increase its funding to support subsidisation of the bus services in the county.
(3)  That Arriva be lobbied via Essex County Council to improve the condition of their buses and make them more user friendly.
Update
Shaun Scrutton, The Head of Planning and Transportation at RDC has written to Essex County Council Highways Department requesting that this matter be investigated.
Following the report Cllr T Livings has had a meeting with a representative from Essex County Council to discuss the recommendations at which time Cllr Livings again mentioned the No 8 Bus Service and whilst he was advised that the extension from Hawkwell to Rayleigh is a long outstanding request that Arriva are well aware of, Essex CC have said they will raise it again with them at their next meeting.

This issue has been the source of a constant trickle of complaints ever since I was first elected in 2000.
The planning application for a car park on the farmland was understandably refused by RDC in 1999/2000.
A then also newly elected Conservative Member of RDC asked if I would sort this out for the factories. But no one ever contacted me.  That Member has now lost his seat and at the Count I remembered that conversation.
Basically the chewed up and deeply rutted, water and mud filled verge is an eyesore and in terms of amenity value it has none.
Residents have responded in the Residents Survey that I conducted earlier this year that it would be better to formalise the layby for parking by having a suitable surface.
It would also keep the parked cars from obstructing the Trotting Track which keeps horseriders off the busy B1013. 
I have asked for the views of Tracey Chapman (County Councillor) and Lyn Harvey (Highways Engineer) Essex County Council on this proposal.