The Liberal Democrats have published an article called A "Presidential-style" Council but The Rochford Independent would like to share with all residents just how this new BASIS for Rochford District Council will directly affect one of the big decisions that are made in the next few months.  We don't think that the public appreciates that the new cabinet members are in a very powerful position.  So how will this impact on the allocation of 3700 new houses across the District?  This is how it works…………and if you wish to get your views known before the policy is made then write to Councillor Hudson now rather than later.  We feel that although there is a public consultation period it will be so much harder to get big changes once it has been published so do it now ……..
The story so far:
In the Summer of 2007, after the first public consultation, 32 Conservative Councillors met in private to allocate 2200 new housing units across Rochford District.  They came up with 365 for Hawkwell West and just 740 for the whole of Rayleigh.
The Liberal Democrats seem to have gratefully accepted the reduced allocation for Rayleigh and have not raised any objection yet to the allocations across the remainder of the District. Not surprising because any objection to what is going on elsewhere might lead to the Rayleigh allocation increasing !! 
But Lib Dem Councillor Chris Black, Leader of the Opposition at RDC, has written "We support a 'fair shares for all' policy for new housing in Rochford District."
But how can 365 new houses in Hawkwell West be described as 'Fair Shares for All' ?  It is not Fair Shares At All !!
A 'Fair Shares for All' policy would mean just 110 new houses in each of the 23 District Wards
Rayleigh should have 1000 new houses not 740
Hockley should have 330 not 36
So why is one Ward in Hawkwell allocated 365?
This would mean an increase in the number of houses in Hawkwell West by 25%
From the Echo 19 May 2008.
PLANS for 3,000 new jobs and 3,790 new homes in the Rochford district are not sustainable without improvement to the area's transport links, according to an RDC Councillor."We wonder if the Government has any idea at all of the daily problems our residents face due to the severe lack of infrastructure in our area and the East of England generally."
But Rochford District Council has come up with a spin strategy to make everyone feel happy about things.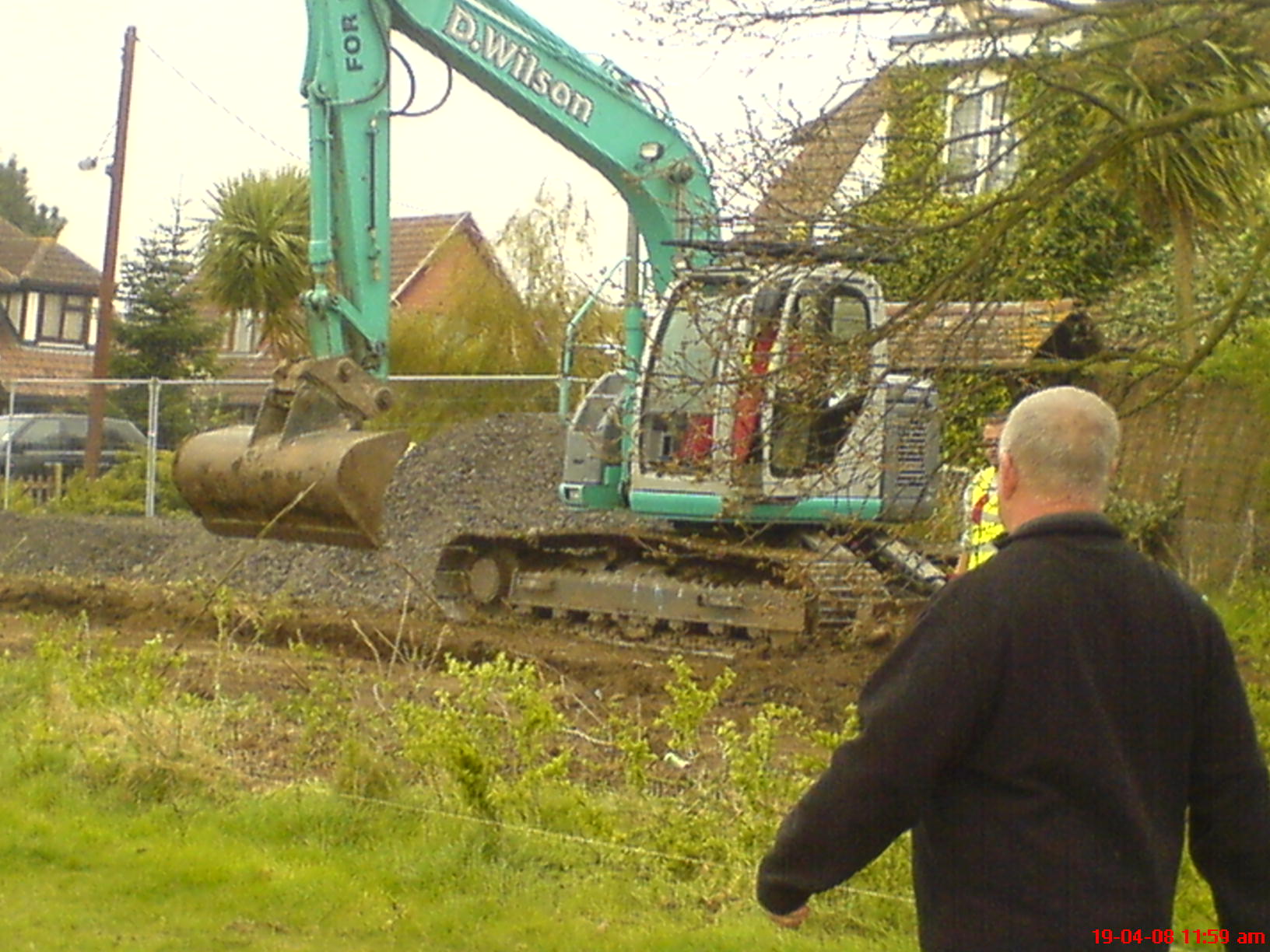 I was called out by residents early on the morning of Saturday, April 19 to the work being carried out by a developer on the land running alongside 63 Hawkwell Park Drive and Park Gardens.  I spoke to the Architect and Builder advising them that they were illegally diverting and surfacing a bridleway.  They refused to stop the work.
I contacted our County Councillor by email immediately and also Rochford District Council.
The insanity which is prevalent in the Conservative Party reared its ugly head again last Thursday, 21 June in the Development Control Committee (Planning).  The sane Members only narrowly approved a new education centre for the disabled being provided in Rochford District.
Disability Essex is arguably the leading organisation in its field in the UK.  Not only were they applying for a learning centre but they were proposing to build an eco friendly facility which is the only one in the UK to achieve a gold design standard.
Planning : Matter of Concern Number 5, Residents Survey – Hawkwell West 2007
In 2003 I was elected by you as a Member of Hawkwell Parish Council.  One of the priority projects was the development of a village plan. This is one of the projects that I wished to see taken forward by Hawkwell Parish Council 2003 – 2007.
One of the big questions is development, what is going to happen to Green Belt?  Houses or not?
 Planning : Matter of Concern Number 5, Residents Survey – Hawkwell West 2007
The Conservative run District Council has determined its preferred options for how the District is to develop over the next 14 years and it wants to hear your views on these.  An array of issues need to be decided, including the general locations for new housing, areas to be protected, future employment provision, affordable housing, the approach towards tourism and leisure, and more.
 
The proposals are explained in the draft Rochford District Core Strategy, one of a series of development plan documents being prepared by the Conservative Party for the District.