As your Ward Councillors we found the overall situation most unsatisfactory. We decided to "stay away" from the decision making Council Meeting because we regarded the options of FOR, AGAINST or ABSTAIN equally unsatisfactory.
Press Release by Councillor John Mason, Councillor Michael Hoy, Councillor Diane Hoy and Councillor Christine Mason
Immediate, 1 August 2013
Appointment of Chief Executive to Rochford District Council
Residents and Green Councillors were disappointed that the Conservative Administration of Rochford District Council only invited one candidate to make a presentation and take questions from all Members of the Council on 30 July.
Whilst all Members were initially promised that they would have a choice from more than one candidate this was changed to a presentation from a single candidate by the Conservatives.
The Conservative Administration of the Council had made it clear at the Extraordinary Council to receive the retirement announcement of Paul Warren that Green and Residents representatives would not be invited to join the Appointments Sub Committee who would interview candidates. This was despite the Intervention of the Lib Dems to no avail given that all previous senior appointments at the Council were by full cross party interviews.
One Tory Member who asked his Group why the Residents and Greens had been excluded was reportedly told "it would be like BP (The Conservative Administration) appointing a CEO where SHELL (Residents and Greens) would also be on the Appointments Committee."
This analogy unreasonably suggests that Residents and Green Councillors are, according to the Conservatives, not part of a wider representation of the interests of the people of Rochford District.
This has been a political appointment without choice being offered to all Members of the Council.
Note for Editors:
John Mason and Christine Mason represent Rochford District Residents in Hawkwell West
Michael and Diane Hoy represent The Green Party for Hullbridge Ward
Michael Hoy is also the County Councillor for Rochford West Division representing The Green Party
Councillor Michael Hoy (Hullbridge) and Councillor John Mason (Hawkwell West) have given notice for a Motion to be put to Full Council on 27 July.
"Pursuant to the Parliamentary Statement made by The Secretary of State for Communities and Local Government on 6 July 2010, this Council agrees to carry out a housing needs study for Rochford District and adjust the housing allocations proposed in the Core Strategy to satisfy the minimum needs of our community."
The Motion was Lost.
This what I actually said in Council.
Since I joined Councillor Hoy in putting the motion forward the Council has made a Statement on housing following revocation of East of England Plan.
The Council has already made a decision that should be subject to further study and research in the form of a local housing needs assessment. 
A lot of residents hoped that when the previous government left office, this Council would listen to local people. They expected the Council to reduce the amount of green belt that would be swallowed up.
Many residents contacted me this weekend when they realised that despite the Hawkwell Appeal being dismissed that 175 will most probably still go ahead even when they say that such a development is not welcome or needed in Hawkwell West.
What the Council is proposing is to adopt the housing figures put forward to the previous government in the form of the draft review of the East of England Plan (RSS31).  This means building the same number of houses but over a longer period and I cannot see that any green belt will be saved.
My concern is that even the reduced targets of the previous government represent the provision of housing significantly in excess of local needs.
The two SHMA studies are put forward as evidence.
The date of the latest SHMA is as at January 2010 under the previous Government but it was not published until May 2010. These assessments are a "housing market assessment" which says to me that the figures not only include needs but also demand as promoted by growth targets in the Thames Gateway.
By giving up determination of housing development strategies to local people the new Government is saying that there is no need any more for Rochford District to simply give up green belt to satisfy this demand for construction growth from the Thames Gateway or London. Residents realise from the past that this sort of so called economic growth does not benefit our district and leaves us with growing district wide infrastructural problems that are never solved.
When the Core Strategy was debated in Full Council before submission last September I raised the issues of the district wide infrastructural issues and I recall that the Leader of the Council echoed my concern as did many other Members but reflected that this is outside of our control.  So it is and with the Spending Cuts we cannot expect the district wide infrastructural needs referred to in the Core Strategy to be delivered especially for new public transport initiatives.
On that basis I feel that we need to cut out all the house building that represents housing market growth that is greater than our local needs.
I have asked our Officers a series of numerically based questions and I was referred to study the SHMA's. I could find any direct answers in terms of housing numbers to the questions I had asked.
We also have the enigma of the SHMA 2010 recommending that 196 affordable houses are required annually for Rochford District but at the annual level of total house building by the Council is only 190 inferring only 60 affordable units will be built each year. This needs to be examined critically because I have no wish to consign people to being homeless in our district if the 196 is right. Furthermore I note the comments in the SHMA about the increasing need for single homes for older people and I hope that all Members viewed the evidence put forward by Panorama last night. Both concerns are inherent in the Motion.
So Members if we want to be sure that we are really making the right decision then I would say that we need to commission GVA Grimley to delve further into their research and extract figures and recommendations having carried out a housing needs study for Rochford District and adjust the housing allocations proposed in the Core Strategy to satisfy the minimum needs of our community.
I have to tell you that it was pointed out to me in a legal opinion that because the Council was NOT contesting Highway matters in the Appeal then if I
had done so, and continued to have the legal status (Rule 6) of a full participant in the Appeal, then I personally ran the risk of an application for
award of costs being made against me !!
I did not feel that could just drop the highway concerns that residents have raised with me and I could not face the risk of costs being made
against me either.  So instead of being a special participant I will now have to just act as your Councillor who CAN raise highway issues.
So I have submitted my case for dismissal of the Appeal by the deadline last Wednesday and you can read it at the following link if you wish.
http://dl.dropbox.com/u/1063718/hawkwellappeal.pdf
Caroline Spelman MP in replies to Hawkwell residents, as well as speaking to the ECHO, promises that the regional housing targets would go.
Politically speaking Coombes Farm stands more chance of being dropped because it is not put forward in the Council's Core Strategy because remember that,
despite the protest from Hawkwell in the Public Consultation about the the Core Strategy, the Council has now submitted 175 houses for Hawkwell anyway.
Unless all of the housing targets are removed by a Conservative Government AND there is a real political miracle with the Conservative run Council removing
THEIR requirement for 175 houses then Hawkwell WILL LOSE OUT.
And that is even if the Appeal for 330 is dismissed because the 175 in policy MUST be removed as well.
I suspect that the only commitment which will be given will be one that the housing requirements will be "reviewed".  Reviews have the habit of changing nothing, especially once developers have had their say after an election and I would be wary of stopping any campaign until there is new ink with new numbers which are committed to !!
Time to show opposition to 450 planned houses, VILLAGERS need to make their voices heard about plans to build 450 new homes, a worried councillor has said.
Monday 28th December 2009 By John Geoghegan in the Echo 
Michael Hoy, a Green Party parish councillor in Hull-bridge, believes the village has been subdued in its opposition to the plans which form part of Rochford District Council's core strategy for housing across the district.
He raised the issue at a recent parish council meeting, where he also called for a village plan to help shape any development and to make sure Hullbridge gets something in return from the developers.
Mr Hoy said: "The core strategy has been well-publicised, but we've had no-one at our meetings about it. I also feel there should be more visible support from our district councillors on the issue.
"We must start acting now to let people know what is going on and either try to reduce the housing numbers or, at least, get something back from the developers."
He compared Hullbridge's reaction to Hawkwell and Rawreth, where there has been strong vocal opposition to their housing allocations. The 450 new homes would increase Hullbridge's population by about 30 per cent.
Mr Hoy added: "At the Asda development in Rayleigh, money was forthcoming from the developers for other projects, such as sports pitches and the leisure centre."
The parish council decided to look at the proposals and will hold meetings to get a parish plan up and running.
About 5,500 new homes must be built in Rochford district by 2025 under the East of England plan, which sets the Government housing targets for the area.
The district council must decide where the houses should be built as part of its core strategy.
STOP PRESS, 7/01/2010.  The Government has announced that steps are being taken to control the national distribution of salt !!
This means that it will be necessary to reduce the schedule published here 0n 8/1 and 9/1 -go here  or here to find out more information 
With more snow and icy conditions on the way after the Festive Season our thoughts turned to the problems we experienced in Rochford District from 17/18 December right up to Christmas Day.
ECC Local area offices with knowledge of local requirements can also get involved in deployment. Roads are treated in their order of importance and usage.  So what is considered of importance in Rochford District?
So I decided to write to the County Councillor who is responsible, Councillor Norman Hume, to find out. 
The message that ECC has spent a great deal of budget on gritting roads in the last 10 days has got across to the public.
They are now asking where was gritted, time and date.  Obviously I only need Rochford District data please.
I look forward to hearing from you.
The answer came in the form of a Map where the roads salted are shown in blue.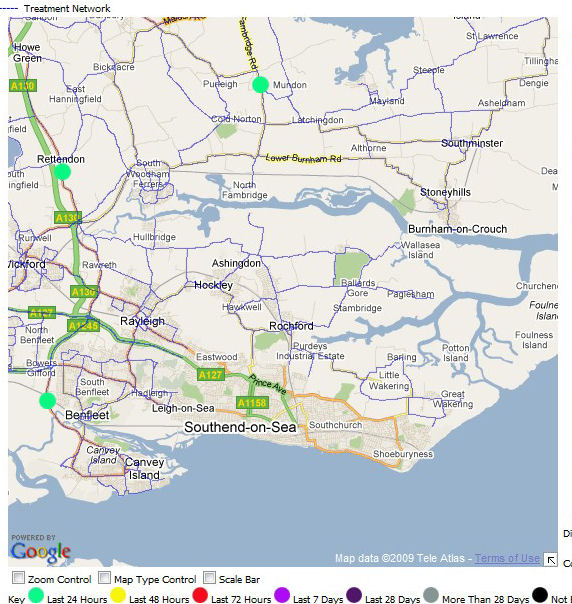 The following link is to the active map that is updated day to day.
http://www.trafficweather.info/roadWeather/rwisMap.jsp?client=98
There is even more information posted below by an Officer from ECC under Comments.
So what about the pavements in our shopping areas?  They were largely untreated and dangerous for several days.
RDC now has its own supply of Salt and 9 new bins were ordered for our shopping areas just before Christmas. The piles of salt/grit that I have seen myself in Rochford and Hockley. 
I think that Keith Hudson has done a great job for residents in securing their safety in conditions which are set to be down right dangerous if the problems before Christmas were to have been repeated.
When the winter is over, though, there are questions to be asked as to why Essex County Council has the responsibility for this and cannot, apparently, fulfil its obligations.
Is it a budget issue or a lack of resources in its contractors?
Although I don't want to count the cost right now, wishing to see safety fulfilled, I am sure that Keith is keeping count of the spend, and although it may not be high or significant in the overall RDC Budget, I do hope that we  as residents, have not already paid ECC and this spend is extra !!
The weather forecast for the next few days looks dire, keep yourselves and your families safe and well.
THERE WAS CLEARLY A BIG PROBLEM INITIALLY AT ECC WHICH WAS EVIDENTLY SOLVED BY RDC !!
The following Article was published by RDC on 23 December which was a full 5 days after the first snowfall and during the first period of 24X7 below freezing conditions.
Did it take this long for ECC to realise that it could not fulfill its obligations?
Or did it take 5 days for ECC to give authorisation to RDC?
The Full Article on Rochord District Matters Online is at
http://www.rochford.gov.uk/rdm/index.php/2009/12/23/rochford-district-council-help-de-ice-the-pavements/
or if that link does not work use this
http://dl.dropbox.com/u/1063718/Rochford%20District%20Council%20help%20de-ice%20the%20pavements%C2%A0%C2%A0Rochford%20District%20Matters%20Online.mht
I would have asked this question there but "Comments are Closed". Here are a couple of Extracts to put my comment into context.
"Ensuring the roads and pavements are kept as ice free as possible is the responsibility of Essex County Council, however, due to the severity of the weather, resources have been stretched and Rochford District Council has stepped in to help out."
"The Council offered personnel and vehicles and has been authorised to collect rock salt from the County's stocks, to work on clearing pavements in the District, in co-ordination with the Essex County Council contractor."
Dear Councillor Mason
 
To confirm our discussion and my advice to you which John Honey as Monitoring Officer has affirmed, there is a clear distinction between Council Members' participation in the Core Strategy deliberations and the consideration of a subsequent planning application.  The key issue for the purposes of the code of conduct is that you keep an open mind in respect of the planning application and do not made public statements on those proposals, in advance of the formal consideration, that gives the appearance that you have already made up your mind on that matter. In the circumstances I do not consider you would be precluded from participating in the determination of the planning application .
 
Kind Regards
 
Albert Bugeja
Head of Legal Services
Rochford District Council
and Deputy Monitoring Officer
The Council is required by law to appoint one of its employees as its monitoring officer. Rochford's Monitoring Officer is:
John Honey, Corporate Director (Internal Services)
The Monitoring Officer has a statutory role, with a number of specific functions including issues relating to ethical standards. Rochford's Monitoring Officer works closely with the Chair of the Standards Committee.
The Monitoring Officer acts an adviser to the Standards Committee, which involves:
•Making sure that the Standards Committee understands its powers and procedures;
•Making sure that the procedure for dealing with complaints is fair and efficient;
•Making sure that the councillor who is the subject of a complaint understands the procedures the Standards Committee will follow;
•Providing advice to Standards Committee about law and procedures when complaints are being dealt with.