By John Mason


We had contemplated standing in the County Council Elections but to be honest Christine and I are too busy sorting out issues caused by the DWH Development for all residents.
We are only representing you as Independents at the District Council because we are local residents who care about our local surroundings and environment and we will continue to speak out for you.
What has stimulated this Article?
The Liberal Democrats have published their "Priorities" for candidates standing for Election to Essex County Council across the whole County of Essex.
(http://onlinefocus.org/?p=12668 "Essex Liberal Democrats – Our Priorities for the 2013 Elections")
All the County Wards or Divisions in our District are in contest from a wide range of candidates.
I am personally a voter in Rochford North which covers Hawkwell. Here is what I would wish ALL of the candidates looking for my vote to address.
There are 3,500 new dwellings agreed in the Rochford Core Strategy. Already 976 have been given planning permission in the Central part of the District.
Voters cannot see how the overall highways infrastructure can cope without major improvements.
Essex County Council is the Authority responsible for Highway improvement planning.
I do not know of a single other subject that ALL voters in our District want to see addressed as a Priority by a newly elected Administration at Essex County Council, whatever the political balance at the end of the election.
The roads in the Rochford District have not been strategically improved since green-space separated all towns and villages on the Shoebury peninsular (for want of a better name).
The development of Cherry Orchard Way (B1013) resulted in Hawkwell getting true through traffic avoiding the A127 congestion for the very first time.
The Hawkwell Parish Plan Group is so concerned that it has suggested that a Rochford Bypass should be reconsidered when planning to improve the current inadequate road infrastructure. I understand that many voters in Hawkwell support this. What are the County Council Candidates views on this?
As explained by the current Administration at ECC, "the current Essex Local Transport Plan (LTP) was developed in line with Department for Transport Guidance on LTPs. This LTP represents a significant change from previous LTPs. It is not a 5 year plan that sets out a specific programme, instead it is a long term document that provides the framework within which transport programmes can be developed."
The current Administration at ECC Essex County Council stated in an email to me on 21 December 2012 "On a local level every strategic development proposal is accompanied by a transport assessment, the scope of which must be agreed with the Highway Authority. This assessment considers the impact the proposed development will have on the highway network and includes industry standard forecasted growth (TEMPRO) to ensure a comprehensive approach that accounts for present traffic conditions (including any new and committed development) and future traffic growth."
The Highways Authority has evidently not looked strategically at the cumulative effect of traffic impacts of planned development through the Local Transport Plan and The Highways Authority will only address improvements in a limited piecemeal fashion on each planning application for development.
This is not good enough and voters will want to hear what the Parties contesting the County Council Elections are going to do about it.
Let us hope that it is not "Nothing" !!
I found this interesting article on Yahoo Cars !!
A parish councillor in Gloucestershire was so tired of people parking next to his house that he painted two spaces on the road outside. He declared those spaces his, forbidding anyone else from parking there.
The local Council immediately condemned the crude yellow boxes as illegal – but declared they will not be removed, because it's a waste of taxpayers' money.
Paul Syrett, a 46-year-old IT worker, sits on the planning committee of Woodchester Parish Council. His actions have naturally caused friction between him and nearby residents.
Neighbour Sandie Mills said: "As soon as I moved in he made it clear that those spaces belonged to him. It was only after he painted the lines that I looked into it and was assured by Gloucestershire Highways that they were illegal."
There's nothing stopping anyone from parking in the self-painted spaces, but Syrett is adamant that the land outside his house belongs to him. Therefore, he believes, nobody else is entitled to park there.
A spokesman from Gloucestershire Highways contradicted that view, however, saying that "while the land beneath the tarmac may belong to Mr Syrett, the surface is dedicated as highway. Highway rights supersede any others."
The spokesman added: "We're not removing the markings as it could meet legal challenge which would cost time and money."
Mark Nichol
STOP PRESS, 7/01/2010.  The Government has announced that steps are being taken to control the national distribution of salt !!
This means that it will be necessary to reduce the schedule published here 0n 8/1 and 9/1 -go here  or here to find out more information 
With more snow and icy conditions on the way after the Festive Season our thoughts turned to the problems we experienced in Rochford District from 17/18 December right up to Christmas Day.
ECC Local area offices with knowledge of local requirements can also get involved in deployment. Roads are treated in their order of importance and usage.  So what is considered of importance in Rochford District?
So I decided to write to the County Councillor who is responsible, Councillor Norman Hume, to find out. 
The message that ECC has spent a great deal of budget on gritting roads in the last 10 days has got across to the public.
They are now asking where was gritted, time and date.  Obviously I only need Rochford District data please.
I look forward to hearing from you.
The answer came in the form of a Map where the roads salted are shown in blue.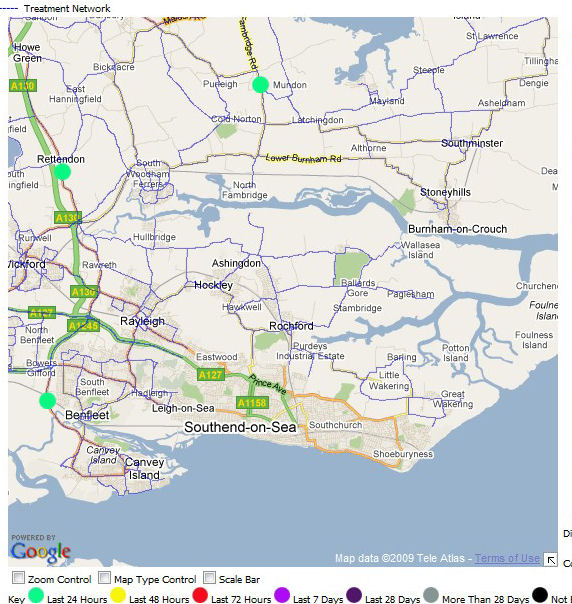 The following link is to the active map that is updated day to day.
http://www.trafficweather.info/roadWeather/rwisMap.jsp?client=98
There is even more information posted below by an Officer from ECC under Comments.
So what about the pavements in our shopping areas?  They were largely untreated and dangerous for several days.
RDC now has its own supply of Salt and 9 new bins were ordered for our shopping areas just before Christmas. The piles of salt/grit that I have seen myself in Rochford and Hockley. 
I think that Keith Hudson has done a great job for residents in securing their safety in conditions which are set to be down right dangerous if the problems before Christmas were to have been repeated.
When the winter is over, though, there are questions to be asked as to why Essex County Council has the responsibility for this and cannot, apparently, fulfil its obligations.
Is it a budget issue or a lack of resources in its contractors?
Although I don't want to count the cost right now, wishing to see safety fulfilled, I am sure that Keith is keeping count of the spend, and although it may not be high or significant in the overall RDC Budget, I do hope that we  as residents, have not already paid ECC and this spend is extra !!
The weather forecast for the next few days looks dire, keep yourselves and your families safe and well.
THERE WAS CLEARLY A BIG PROBLEM INITIALLY AT ECC WHICH WAS EVIDENTLY SOLVED BY RDC !!
The following Article was published by RDC on 23 December which was a full 5 days after the first snowfall and during the first period of 24X7 below freezing conditions.
Did it take this long for ECC to realise that it could not fulfill its obligations?
Or did it take 5 days for ECC to give authorisation to RDC?
The Full Article on Rochord District Matters Online is at
http://www.rochford.gov.uk/rdm/index.php/2009/12/23/rochford-district-council-help-de-ice-the-pavements/
or if that link does not work use this
http://dl.dropbox.com/u/1063718/Rochford%20District%20Council%20help%20de-ice%20the%20pavements%C2%A0%C2%A0Rochford%20District%20Matters%20Online.mht
I would have asked this question there but "Comments are Closed". Here are a couple of Extracts to put my comment into context.
"Ensuring the roads and pavements are kept as ice free as possible is the responsibility of Essex County Council, however, due to the severity of the weather, resources have been stretched and Rochford District Council has stepped in to help out."
"The Council offered personnel and vehicles and has been authorised to collect rock salt from the County's stocks, to work on clearing pavements in the District, in co-ordination with the Essex County Council contractor."
The Rochford Independent congratulates the individual residents who made written representations to Rochford District Council and to the organisations which ran campaigns of objection, namely The Hawkwell Action Group (HAG) and The Hawkwell Residents Association.
The David Wilson Homes Planning Application was Refused Permission last night, 3 December 2009, by the unanimous recorded vote of District Councillors present at the Development Control Committee.
One of the Ward Councillors, John Mason, led the debate having heard a presentation by Officers, and speeches by Mr. Hull on behalf of the Applicant, Parish Councillor Myra Weir on behalf of Hawkwell Parish Council and John Dagg QC on behalf of The Hawkwell Residents Association.
The leading speech given by John Mason is published here.  Around 60 residents from Hawkwell including Committee  Members of The Hawkwell Action Group (HAG) and the Chair and Vice Chair of The Hawkwell Residents Association were present to hear the debate.  
Speech
Thank you Chairman. Thank you for recognising my very early indication that I wished to speak on this application.
I would like to acknowledge and thank so many residents from Hawkwell especially for coming along tonight and see how decisions are made on planning applications. I am going to speak about the planning application tonight and not the detail of the Core Strategy.
I assume that most people are here because they object to this proposal.  I have received nearly three hundred communications in the form of letters, emails and telephone calls as well as a petition. Only two were in favour and one of these was anonymous and unsigned.
The main reasons from objectors are as follows;
Travel
– limited public transport
– increased car use causing heavy congestion
– inability to improve highways
– distance from shops
– distance from rail stations
Environment
– semi rural location unsuitable for large development
– complete loss of character
– loss of green belt
– loss of wildlife
Some of these have been carried through to the Recommendation from Shaun Scrutton for Refusal.
We have heard from John Dagg QC tonight who has been engaged by The Hawkwell Residents Association and I am sure that all Members have appreciated the additional input to the decisioning process.
Mr. Dagg referred to the concept of separation of settlements. I am greatly interested in this concept which I have recognised over many years as coalescence.  Do we have a policy on preventing coalescence of our villages by development?  I thought we had but I cannot find it.  Or do we need a new policy in our Core Strategy?  I would ask Mr. Scrutton to tell me the policy reference.
There are some other issues that I wish to raise which have concerned me when I was analysing the proposal.
The first concerns the Traffic Asssessment.  It does not take into account the additional impact on the roads directly affected by this application by the expansion of Southend Airport and the other developments proposed in the Core Strategy which will send traffic down these roads. I am told by Shaun Scrutton that this is the way that all Traffic Asssessments are conducted and that they all have this caveat. I think that is wrong and at some stage I expect to be able challenge a Planning Inspector to consider this as being a flaw in the British Way.  It is nonsense to my mind.
The second is that I am surprised that there is no reference in the terms for Refusal to PPS3 – The Government Panning Policy on Housing. I have read this cover to cover. I did not think that the application was wholly compliant with PPS3 in several material ways. But I am not a qualified professional planner and I have to be guided on technical matters by our Officers. These are the areas.
PPS3.  Is it easily accessible and well-connected to public transport?
My emphasis is on well-connected.  Hawkwell West is not by bus, by cycle paths (what is the point of cycle paths on a development if they connect to nothing) 20 minutes walk to a rail station so people use cars and increase car journeys.
PPS3. For smaller sites, the mix of housing should contribute to the creation of mixed communities having regard to the proportions of households that require market or affordable housing and the existing mix of housing in the locality.
Mr. Hull for the Applicant referred to the fact that Council must comply with policy to provide affordable housing.  I will talk about this too.
The position is that this community of Hawkwell West does not have need for a "mixed use and high density development" and the evidence for this is that the proportions of households (from The Office of National Statistics) indicate that 66% are unlikely to require market or affordable housing based on the population profile and projected needs.
I would ask Shaun Scrutton to advise why these are not included in the Report.
I was also particularly concerned about the "Village" part of the development which proposes densities much higher than the surrounding area and in my judgement PPS3 does give us some arguments about non compliance here in PPS3 .  But the idea of a number of buildings throughout the development over two storeys is of greater concern and I am pleased that these are a reason for refusal.  If that is also the way that community benefit can only be provided in the terms of doctors, dentists, health centres then that is inappropriate and unwelcome.
The ECC Urban Design Consultant is still against the revised outline design put forward.
Whilst I congratulate the Officers for their excellent report there is a material matter in terms of History which has not been cited or explained.  I have seen a letter from RDC to a resident which confirms that at the time of the Inquiry which led to the agreement of access to CHLC creating Clements Hall Way that the Planning Inspector decreed that there should be no development of green belt directly to the West of Clements Hall Way.  Why has this not been mentioned?
At the same time it is inferred from the anonymous letter that I received that a Local Plan Inquiry in 2005 found that this land met all the criteria for release from green belt for 365 dwellings.  Is this true?  What is the status of that? 
With regard to flood issues I cannot argue with the findings of the Environment Agency which are now apparently withdrawn but I'll keep my rubber dinghy in the shed in case I have to rescue anyone if this turns out to be wrong.
The anonymous person who wrote to me thinks that the land has no intrinsic agricultural value.  That might be so or not so but that is no reason just to accede to development and there are alternative uses in spatial planning terms.  Not least of these is to promote and conserve biodiversity, and rural/semi rural characteristics which is valued by residents.  Some could describe this land as derelict but even the applicant recognises the extent and value of the biodiversity it supports.
I wish to thank the Applicant for agreeing with my private capacity approach to them to save 20 non indigenous deer on the site and to provide additional warm nurseries for the bats in new buildings should any development proceed in the future.
Once again I reiterate my comments about coalescence and I see that it is very appropriate to see our village settlements remaining separate, unique communities within the umbrella of the Rochford District.
I leave it to Shaun Scrutton and the Portfolio Holder to deal with the challenge made by Mr. Hull for the Applicant in his speech about the 5 year supply of developable land.
 
I am now going to formally move the resolution for Refusal as set out in the Addendum and I hope that there is a seconder.
Councillor Chris Black seconded.
As Councillor Cutmore said on another application "we are the place shapers for Rochford not greedy developers" and there is no doubt that this application is premature in terms of the Core Strategy and a primary reason for Refusal which can be used as determined by PPS3 provided that there are other material reasons.  This is a speculative action by the developer but it could also be described as greedy.
 John Mason
3 December 2009