If you need any evidence of how quickly things change in politics look no further than Southend Borough Council.
On 28 October in the Echo, Anna Waite, Planning Supremo at Southend Council on the possibility of NEW plans to build 10,000 new homes in the next 20 years on land at Fossetts Farm and Bournes Green, Southend said:
"This scheme is ill-conceived, unsustainable and very undesirable.
"I believe we should be protecting the green belt from housing developments and farming our agricultural land to sustain the population.
"I shall be opposing this proposal, which I strongly believe the residents of east Southend do not want."   
And yet just a week later, 6 November, again in the Echo, she said: "We would be looking at a new road running from the area of the Tesco roundabout on the A127 to Eastwoodbury Lane in the area of the Smallholdings.  "The council would expect this part of any new road to be funded by the airport and we would only be looking at funding a small road, from the Smallholdings to Warners Bridge, with access to the airport."
"The next phase of the scheme would extend the road from Warners Bridge to Fossetts Farm and finally as far as Shoebury."
The Rochford Independent understands from a conversation with a Southend Borough Councillor that the Southend Cabinet may have approved both legs of the new road.
And the spectre of a full outer relief road through Rochford District's green belt is not being considered. 
But will the traffic not just feed direct into the beleaguered A127? 
So a proposed development in the Fossetts Farm and Bournes Green area, spilling over into Rochford District now seems to be on again despite the initial adverse reaction of Anna Waite. Perhaps she had no where else to go to meet the EERA allocation of 10,000 new houses in Southend? 
But Rochford District Council is firmly against with Keith Hudson, Council Cabinet Member at Rochford for Planning saying that he was fighting this at a public meeting on 13 November in Hawkwell.
Indeed in the Echo on 28 October Keith Hudson was reported in the Echo as that he agreed the proposal was totally unacceptable.
So we have Southend now moving forward with the possibility of a development on land at Fossetts Farm and Bournes Green and Rochford District Council against and the developer having made application to the EERA (East of England Regional Assembly).
How will the story end?  We don't know but the EERA and Go-East (Government Office) could conceivably step into Rochford's Core Strategy and either add these on to the 3500 houses that Rochford already propose on Green Belt or could the 3500 be replaced with development in the East of Rochford instead?
How does Rochford District Council reconcile its likely wish to approve an expansion of Southend Airport under the JAAP with trying to stop a big development in the East of the Rochford District? Could it be said that a new road approved under the JAAP to link Warners Bridge to the A127 at Tesco's might by a further extension paid for by a developer facilitate a major development in Rochford that it does not want?
Strangely none of this is discussed in terms of Options in Rochford District Council's Core Strategy which is in public consultation until 17 December.
Certainly Southend cannot expand in the East unless Rochford agrees. Publicly Rochford is against. And are there frustrated regional planners waiting in the wings to act?
Does Rochford think that just saying "No" without a reasoned planning case is going to be enough?
The loss of green belt argument goes a bit soft when Rochford is already planning to build on green belt in a series of scattered locations for 3500 new houses across the Rochford District already in its Rochford Core Strategy – Preferred Options public consultation.
And the Council already agrees that it will not get the infrastructure improvements it needs to make such a level of development sustainable.  Keith Hudson said in Hawkwell of the Council's existing Core Strategy "that a billion pounds is needed to put right our poor infrastructure".  Council Leader Terry Cutmore had already said in Council when the Core Strategy was presented that he feared that Rochford would not get the infrastructure improvements it needed for the plan put forward by the Council.
The Rochford Independent thought that Rochford District Council had promised two major strategic options in its next consultation on new housing……….so what happened to the second one then?  
And would that secure the infrastructure that is needed to sustain development in Southend and Rochford as an alternative?
There needs to be a joint professional spatial planning analysis with RDC working with Southend Borough Council of that option conducted, just like the JAAP for the Soutend Airport Expansion proposal, and then more public debate and consultation in both Rochford and Southend.
160 residents from Hockley and Hawkwell went to the Rochford District Council Meeting held at the Hawkwell Village Hall to protest against the proposal from the Council to build 330 new houses between Thorpe Road and Clements Hall Way.
Independent District Councillor John Mason for Hawkwell West spoke at the end of the Meeting at the request of a resident to explain whether he was against the proposal.
Councillor Mason confirmed that he remained steadfastly against the proposal, indeed as he had said at two public meetings arranged by the Hawkwell Action Group.  He took time to say that he had been conducting his own technical appraisal of the location described as South Hawkwell under the Government Policy on sustainable development PPS12 and that he had concluded that it was NOT a sustainable development and should be dropped by the Council.
Download "330 reasons to object to new houses in Hawkwell"
John said that he would make his findings available on the web and that he hoped that residents would consult this and write their own letters of protest to the Council, by letter, email or by direct input into the Council's Database.
Councillor Hudson, on behalf of the Council, said that he welcomed the input that would be provided by Councillor Mason and residents because the Council did want residents views in writing not just as expressed at the meeting.
John Mason's hugely detailed letter of protest on behalf of residents can be downloaded here.  He urges all concerned residents to write to the Council by 17 December which is the closing date of the consultation.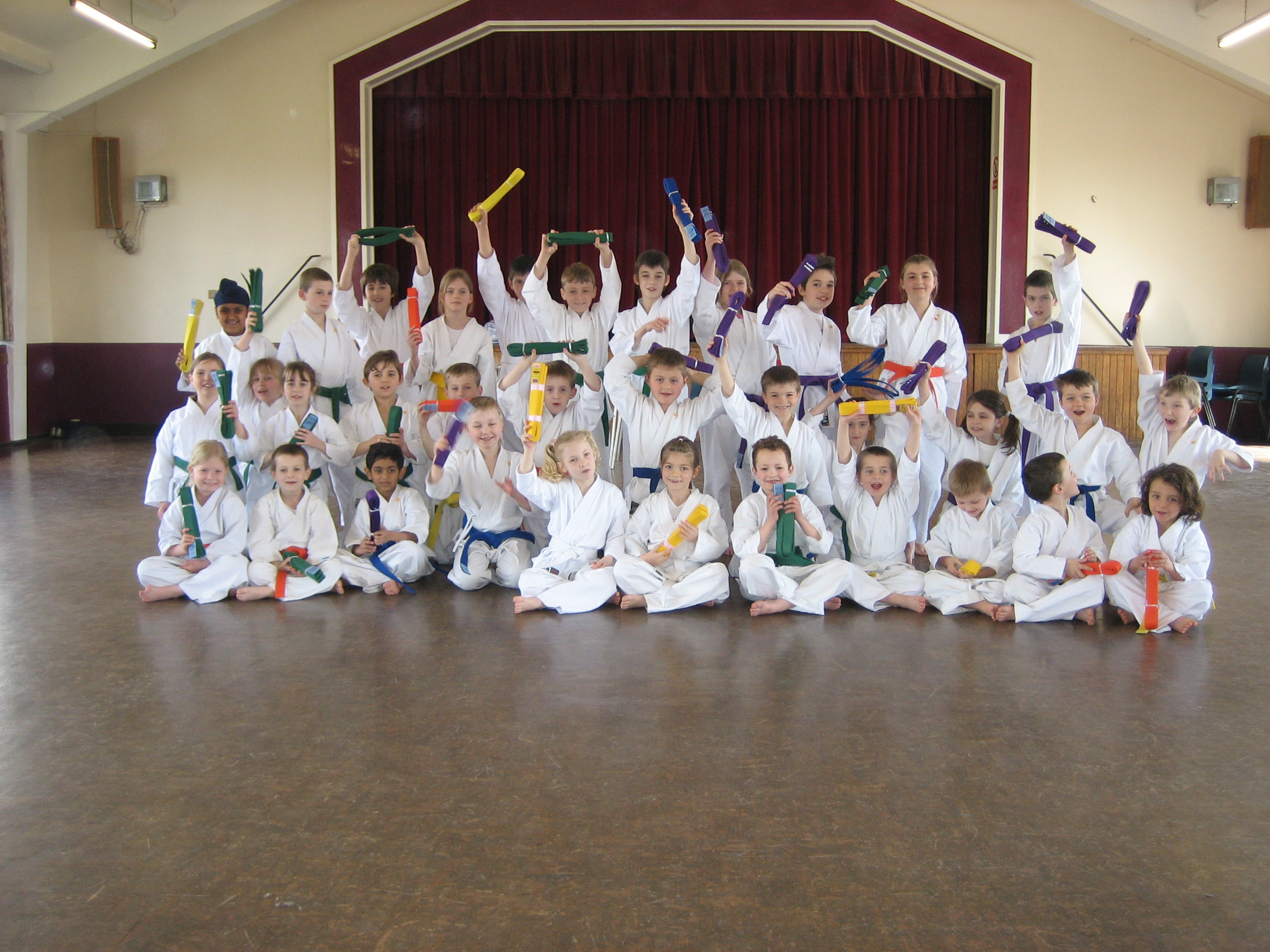 Local based Britka Karate have opened a new karate class at Hawkwell Village hall, for children aged 5 to 10 years.
Our classes are run by  fully qualified male and female Instructors.
For information about this and our other classes please contact Russell 07745 104173 or visit our website at www.britka.co.uk
This article is an "exclusive" that Brian Guyett, Chairman of The Hockley Residents' Association asked us to publish. 
The table below summarises the proposals in RDC's Core Strategy and also shows residents' current understanding of the 'true' locations.
RDC does not seem to want us to see these figures. They are not summarised in the Core Strategy and we all know by now that some of the descriptions are misleading, to say the least. Neither are they mentioned in the special edition of Rochford Matters.
If this is a 'good,' sustainable plan, why is the Council desperately trying to supress this key data? Could it be because they know that the plan is not viable spread across 12 sites, plus the airport?
However, we do need to remember that this allocation has been imposed on the Council and us. We have to find somewhere to put these homes. If we don't find a solution, it will be imposed on us.
Where can/should we put these extra homes, which equate to a 10% increase on the existing housing stock in the District? We must find an answer!
Location

RDC Core Strategy

Revised

'True'

Location

No. of units by 2015

No. units 2015- 2021

Post

2021

Total

West Hockley

50

 

 

50

50

Hawkwell West

100

100

130

330

330

East & SE Ashingdon

240

0

380

620

Nil

South Canewdon

60

0

90

150

150

West Rochford

300

100

150

550

1,170

West & SouthWest Great Wakering

150

     

200

 

160

 

510

 

510

South West Hullbridge

0

450

90

540

 

240

North of London Rd & SW Rayleigh

550

 

200

 

 

750

Rawreth

 

 

 

Nil

1,050

Total

1450

1050

1000

3500

3500
This is an update on the work that I am doing as your independent district councillor for Hawkwell with the Hawkwell Action Group which is fighting the imposition of 330 houses in Hawkwell West.
I have had a conversation with an Officer at Essex County Council responsible for transport and highway issues who has advised me that RDC has asked it to conduct an assessment of a site he called "Rectory Road". When he confirmed the housing numbers at 330, I concluded that this was the whole allocation being put forward by the District Council in a "general location" which has been written in a report as Hawkwell – South.
I was told that the landowners have employed an independent traffic consultancy to undertake a full and detailed transport assessment.
A second Officer called me about my questions about education capacity confirmed the housing numbers as 330 but he described the site as "The Christmas Tree Farm".
The reference to Hawkwell-South is complete nonsense and seriously misleading to those who live in West Hawkwell and I protested to the District Council. All they have done is changed it to South Hawkwell.
There will be a Key Diagram included with the Public Consultation on the Rochford Core Strategy so you should be able to draw you own conclusions. The District Council is not talking about specific sites at this stage but it is not too difficult to work it out, especially if you just call Essex County Council as I did and they may just tell you what they told me!!
The Public Consultation will start in early November. There will be an unmanned display at Clements Hall starting at the beginning of November for 3 weeks.
And a Meeting of the District Council will be held on 13 November at Hawkwell Village Hall, 19.30 hours where there will be a presentation and you should be able to ask questions.
I am against this proposal because it is just not sustainable. If you object then you must do so in writing during the Public Consultation.
Westcliff Film and Video Club are about to start their new season. Nothing new there, it's happened every year since 1963. The difference, this time, is that the club has changed its name to, SOUTH ESSEX FILM MAKERS.
One of the premier film making clubs in the country, it now attracts members from all over South Essex and the name change is aimed at reflecting that. In fact the club has rarely held its meetings in Westcliff at all. Over the years they have used many venues including the County Hotel Eastwood, Hawkwell Community Centre and, for the last few years, Wyburns Primary School, Nevern Road, Rayleigh. That is where the new season will start, on Monday 29th September 7.45 for 8pm. Visitors and prospective members are always welcome. Once again there will be a full programme of Talks, Practical sessions, Competitions and members film nights.
The group are in the process of producing a brand new website but, in the meantime please visit the temporary one on:- http://www.sefm.org.uk/
A local puzzle enthusiast has scooped a £10,000 cash prize from the UK's leading Prize Competition organisers, Prize Magazines.
Sheila Watkins from Hockley in Essex was presented with the cheque for £10,000 by Prize Magazines owners Tony and Judy Lane after winning the main prize in a national draw being run through their seven magazines.
Sheila, who is about to start receiving her pension later this year, said "What a brilliant boost to my pension! I plan to share some of the money with my family, visit friends in Portugal for my sixtieth birthday and go on a dream trip to Iceland. I have already treated myself to a Nintendo DS too!"
The Hawkwell Residents Association AGM is to be held in the annex of the Hawkwell Village Hall 6th August at 20.00 hrs.
VEHICLE CRIME:
Overnight 8th July into 9th July there was several thefts from motor vehicles in the Hawkwell area. There was also sheds entered, possibly where the culprits are looking for tools to use to commit crime??
SUSPICIOUS MALE:
On 7th July, a suspicious male was reported calling at an address in Jubilee Close, Hockley claiming to be from Dynarod. He had no uniform and no ID. The male was white, late 20's / early 30's, approx 6'01", slim build, short dark brown hair, wearing grey trousers, red T shirt with green stripes going round it (possibly a rugby shirt.) The male stated there had been a report the drains were blocked. The informant to police claimed the male seemed surprised that someone was home.
POSSIBLE SCAM?
On 30th June, an expensive Nokia N95 mobile phone was posted to an address in Woodlands Road. The occupier signed for the package which was in their name and address although they had not ordered this item. A few days later a tall, well dressed black male, called explaining the phone was his and had been delivered to the wrong address. The house numbers had been mixed up. The male produced a water bill as ID for another address in the street. The phone was handed over. The house details on the produced water bill do not exist.
It is a well known scam to use properties in this way to apply for all manner of products and services including bank loans and expensive electrical goods. It may be legitimate but given the facts above it would appear to be a scam. Be warned.
Community Safety update as at 25 June 2008
As part of the Water UK awareness campaign to raise awareness about distraction burglary where 'waterboard' has been used as an MO, the following telephone numbers can be disseminated to the public to encourage them to check the identity of any 'water company' doorstep caller.
Anglian Water    0800 145 145
• install and use door chains
• use spy holes to see who is at the door
• display uninvited caller stickers
• do not keep large amounts of money at home
• encourage family, friends, carers and neighbours to check that these are in place
• encourage people to register a password with their water company
• encourage people to ask for identification from those at the door
Thank you to everyone who wrote to Arriva objecting to a change of the 8 Bus Service to one per hour.
Whilst Arriva have stated that that they have not made a final decision, I think that we have to face the possibility that this decision could go through because I am advised of the rising cost of fuel and the low passenger numbers.  My concern is that with a service of only one per hour then passenger numbers will fall even further and next time the service will be cancelled.
Nevertheless the people that did write to Arriva have made their protest known but it is hard to see how that will alter the economics from Arriva's point of view.
It is possible if the public make representations that Essex County Council might step in with a subsidy.  If you do feel strongly enough about the issue please join me in sending an email to our County Councillor, Tracey Chapman at cllr.tracey.chapman@essexcc.gov.uk 
Arriva will register their decision on service changes with the Traffic Commissioner on 10 August 2008. The public will be informed when Arriva advertise the revisions to customers by means of onboard advertising and via their website.  
The email Arriva sent to you in reply says that "No changes will be made without full consultation" but I can assure you that there will be no further consultation with the public because this will end with the Arriva consultation with Essex County Council.  So please email Tracey Chapman.
John Mason
Independent District Councillor for Hawkwell West
There were renewed calls in the Echo on 4 July for a Southend Relief Road because of recent closures of the A127. Southend notables were interviewed and they saw no point in road improvements in Southend which would link up with the A127. A suggestion was of a new road going North of Shoebury.  Nobody actually said that there should be a Rochford Southend Relief Road but how long will it be before this gets back into play following the retirement of Southend MP Sir Teddy Taylor who campaigned relentlessly for a major road through Rochford District. 
If readers want to know the history of Southend/Rochford Relief Road then please look at this web site. 
http://eerasouthendreliefroad.org.uk/
Arriva have announced to the District Council proposals that from 5 October the 8 Service could be extended to Rayleigh but cut to once an hour. The public was campaigning for the 8 to be extended to Rayleigh but NOT once an hour instead of a 30 minute service.
To object please email Arriva. Matthew Arnold customerservice@arriva-shires.com
So getting to Hockley for the Doctor, Clinic, Library etc., will be harder for many who have no transport and cannot walk well or far, uphill.  And if there is a cancellation then one bus in 2 HOURS!!  As well as Hockley we will be cut off just same from Rochford and Southend if you need to go in the other direction.
You may not use the bus service at the moment but you may wish to in the future and other residents, our neighbours, do use it and need it.
As your representative on the District Council, John Mason met with Chief Inspector Andy Prophet and PC Steve Joynes at Rochford Police Station on Thursday afternoon.
They gave him the opportunity to talk in depth about the problems that residents have been experiencing and the concerns that they have.  John emphasised that if Essex Police see Clements Hall as a good place for the young people to congregate and they support the Teen Shelter then Essex Police must be resourced both for supervision and action to be taken about under age drinking and drinking anywhere in that area because it is banned.
They both understood this point and John hopes that the resourcing will be made available. He suggested that Essex Police have a small meeting with residents towards the end of the summer to get feedback and this was well received.  They also discussed that large numbers from Greensward College seem to want to have parties in the park from time to time and this naturally concerns residents and can give rise to incidents of anti social behaviour.
He asked CI Prophet to discuss arrangements with Greensward for release of Year 11 from the school hoping that Essex Police could get an emphasised message around via the school that anti social behaviour and alcohol would not be tolerated. 
It always been understood that very few ABC's or ASBO's had ever been issued in Rochford District and Essex Police confirmed that this was indeed the case and John said that residents could not understand why this was so.
The new card system is designed to assemble evidence and John got the impression that the Officer at RDC responsible for getting involved with such measures might be getting busier very shortly !!
Whilst not the Zero Tolerance policy that some police forces have adopted and that some residents advocate we can expect that at least action will now be taken on these issues rather than nothing. New video technology is being deployed this weekend to gather evidence as needed and to record identities. 
Hawkwell Parish Council has obtained permission from Rochford District Council to site this new development near the skate board ramp in the playing fields.  Residents at the Central Area Committee held at Hawkwell Village Hall last year voiced their concern but the consultation conducted in the Parish Council Newsletter did not raise any objection.  The Parish Council has the funding and it is now going ahead.
A resident has, however, found out that another teen shelter of a particular design has run into big problems and has had to be removed.  I have asked Hawkwell Parish Council to check this out before going ahead.
From the village of Milton
The site we chose is well away from neighbours at the back of the recreation ground, and beside the skate ramps. So neighbour nuisance has never been a problem. Supervision is minimal there, but there is a light on the adjacent basketball court.
We had suggested to them open shelters like the Ogilvie Engineering one (which I think I would personally recommend).
They wanted something more enclosed, and we ended up with Urban Engineering's shelter, which was like a nissen hut in perspex, with bench seats inside.
From the start some young people (a minority …) unbolted the fixings, we had to get the manufacturers to put in tamper-proof bolts. The shelter was sold as 'vandal resistent' which proved to be an overstatement of the truth. Then the perspex was smashed. It was sharp and dangerous, and to be fair it took a sledge hammer to smash it. We had some metal cladding which the manufacturers had put on at first (not what we had ordered), and in the end we replaced the perspex with metal. Not ideal as the inside was then not visible from a distance.
This lasted for a few years.
Then they started jumping on the roof, and the cladding on the roof was bent up alarmingly. Some of the bolts were hack-sawed off, and it was reported that the shelter was in danger of collapse if any more bolts were removed. At this point the Parish Council decided enough was enough and removed the shelter. It was removed last week.
 
We are in a village location where policing has not usually been an issue. However it is reported that youths from the nearby outskirts of Cambridge may have been responsible for the damage. Whether this minority is from Milton or from Cambridge, we were clearly unwise to choose such a vulnerable shelter.
 
The Ogilvie Engineering designs are in cast iron – we have used their seats for about a decade now, and they seem pretty indestructible.
At the Public Meeting in Hawkwell a resident asked me to explain why this has not been considered in the planning for the strategic housing development plan for Rochford District whereas it was include in the London Southend Airport Report (JAAP)?  The Brickworks Site could support 200 new houses.
The detailed position is as follows.
The formal consultation period on London Southend Airport Report (JAAP) started on the 24 June.  If you look at the four possible development scenarios you will see that a mixed development scheme is suggested for the old brickworks site under Scenario 3.
This is simply a consultation on issues and options and no decisions whatsoever have been taken about the development that might ultimately be agreed in the area of the Action Plan.
 
The JAAP stands on its own as a development plan document, though Rochford District Council will be referring to it, as you might expect, in the revised version of the Local Development Plan Core Strategy.
The Brickworks site is about 1.9 hectares (4.7 acres).  However, you may recall there is a company pushing for the development of a retirement village on the site together with surrounding scrubland – if included, this would make the site about 4 hectares (10 acres).  The boundary shown on the issues and options document is the larger area. This would support 200 houses.
In the Echo on Monday, Terry Cutmore, Conservative Leader of Rochford District Council said "there is nothing wrong with the council's practices.  The whole council is involved – not just the Conservative Members"
RDC spent £4000 including £1395 spent at the Western Ivy hotel and restaurant in Margaretting.
Whilst these are working away days for all Members, I have always declined to go because the Council already has adequate premises and I see no reason to waste council tax.
So it is not true, The Rochford Independent, aka Councillor John Mason, is not involved but FOR THE PUBLIC RECORD, Conservative and Lib Dem Members are.
Having seen the huge turnout at the Hawkwell Action Group's Public Meeting many of you asked how you could object.  Rather than wait for an official public consultation you can protest now especially as it is known that the Planning Policy Committee has reviewed the sites.
Here is the draft of a letter you could send to the Council, Click here.
365 new houses is the biggest threat to the lives of residents in Hawkwell West for 20 years. Is it a real threat?  Yes, because the people who want it to happen went to the trouble of meeting in secret and then gave an "exclusive" to the Echo to publish it.  Who are these people?  Are they greedy land owners?  No these are the people who residents across the district elected to run Rochford District Council.  The powerful councillor who wants this is your "neighbour" in Hockley where he demands only 36 new houses against the 365 for Hawkwell West.
The infrastructure in Hawkwell West has not changed in over 80 years……and why should it, if the residents don't want it? The biggest change in the last 20 years was the decision to site the then biggest leisure centre in the East of England in Hawkwell West and that was a mistake.  It has brought too much traffic to Hawkwell.  Ashingdon Road cannot cope with the huge housing developments in East Hawkwell and Ashingdon and now we find that Rectory Road is a rat run with the bottlenecks at St. Mary's Church and Nursery corner leading to the new Cherry Orchard Lane link to the A127.
Hawkwell West does not have the infrastructure to sustain 365 houses on any of the sites put forward.  And the infrastructure cannot be improved without totally ruining the area.  Neither does Essex County Council have any plans to do so.
So if the houses are built then it will be a disaster. One site is on the flood plain. Another is in the Roach Valley Conservation Zone.  And the last is believed to be a place where rare plants and animals have lived undisturbed for centuries.
As your independent district councillor and I promised to fight for our Green Belt.  I have represented you in successful campaigns since 1994 and I have already been fighting this proposal in Council and Public Consultations for 18 months.
I was delighted when the campaign gave birth to the Hawkwell Action Group and I joined with these residents immediately to help. At two public meetings you have said that you do not want 365 new houses in Hawkwell West.
What you need to do now, because the sites have already been visited by councillors and we are told that the decision will be made in the Autumn is for you to write personally to protest about this before it is too late. PLEASE WRITE NOW.
John Mason, Independent District Councillor for Hawkwell West
The Liberal Democrats have published an article called A "Presidential-style" Council but The Rochford Independent would like to share with all residents just how this new BASIS for Rochford District Council will directly affect one of the big decisions that are made in the next few months.  We don't think that the public appreciates that the new cabinet members are in a very powerful position.  So how will this impact on the allocation of 3700 new houses across the District?  This is how it works…………and if you wish to get your views known before the policy is made then write to Councillor Hudson now rather than later.  We feel that although there is a public consultation period it will be so much harder to get big changes once it has been published so do it now ……..
The Planning Policy Sub Committee at RDC comprises:
Keith Hudson (Hockley)
Carole Weston (Hockley)
John Pullen (Rayleigh)
Chris Black (Rayleigh)
Trevor Goodwin (Great Wakering)
Keith Gordon (Rochford)
"The Planning Policy sub committee has had a day when we travelled together around the district looking at various proffered sites."
Responsibilities under the new Leader and Cabinet system
 
The Council has set up a Planning Policy Sub Committee. Councillor Hudson is the portfolio holder for Planning & Transportation and, as such, is responsible to the Executive for coming forward with proposals prior to the Executive making recommendations on policy to the Council through the sub-committee.
A portfolio holder can consult whomsoever he wishes in connection with matters falling within his portfolio, even setting up his own sub-committee if he so wishes. If the Council's sub-committee meets before the portfolio holder has formed a view, there will be very little to discuss as the Executive's recommendations will not be known. Under the old regime, officers prepared the reports that now fall to the portfolio holder and they presented their own recommendations. The new system is intended to ensure members lead, take responsibility and make the decisions albeit with proper professional advice and input. In the present circumstance, the portfolio holder will be obliged to take advice, have discussions and make site visits before arriving at a considered opinion. None of this breaches the rules of confidentiality and officers will still provide professional advice to the Council on final proposals.
 
Meetings the portfolio holder has do not fall within the Access to Information Procedure Rules applicable to Council meetings unless the portfolio holder intends to take a key decision. These meetings may be describe as "private" but this should not be confused with "secret".
 
With regard to the current development of the LDF, Officers have full knowledge of portfolio holder meetings and will usually be present although not necessarily so.
The Hawkwell Action Group's Public Meeting (protesting against the possible imposition of 365 houses on Greenbelt) was attended by 350 residents all who vowed to object when the District Council next opened the Public Consultation. This followed on from the first public meeting in November at which it was agreed to from an action group.
Jamie Popplewell introduced the Committee, Carol, Margaret, Laurence, Pat & Terry and gave an update on the background and developments. John Mason, being an Independent District Councillor, was introduced as an advisor to HAG.
In answer to a question Councillor John Mason told the Meeting that all is quiet over at the Council since the last consultation was rejected by the Government and a consultants report commissioned by the Council was found to be unsuitable.  But in a private aside before the meeting opened a Parish Councillor had even suggested that Members of the District Council were already out and about looking at possible sites.
The HAG Committee presented comprehensive information on the four possible sites. Residents were quite clear that they do not accept that this level of development could be supported as being sustainable by the local infrastructure. The idea that the Council should look for all communities across the district to take smaller developments of 100 houses was apparently well received.  But this ran against the Head of Planning at RDC who was reported to have said that you need the larger development to screw infrastructure improvements from the developers. 
Residents left their personal contact details with the Committee so that in late August/September people can be advised to make their objections to the Council.
Nobody from the Echo was there because they were short of reporters for the night but residents felt that there could be a hidden agenda at the paper. 
Residents also criticised that the Cabinet Member for Planning, Councillor Keith Hudson was not present (Hockley 36 new houses) but he had sent a letter which was read by residents.  In short we need new houses for our children because we are living too long.  This reason was met by sheer amazement.
A resident asked if any political party was against the proposal and it was disappointing that the Chairman of Hawkwell Residents (a political party which has two members on the Parish Council) who was present at the back of the hall did not speak up. A member of the HAG Committee has now written to ask what the Hawkwell Residents position is.
The only other councillor present was Parish Councillor Myra Weir who spoke on her own behalf about what Shaun Scrutton has said about the benefit of larger developments.
Otherwise it was, unusually, a day for the residents to speak out and ask questions.
The Editor met with Parish Councillor Myra Weir last night at the Public Meeting and she confirmed that the three members of the public who agreed to act as Chair, Secretary and Treasurer have sent the initial funding cheque back to the Rural Community Council of Essex (RCCE).  This signifies that they did not wish to proceed.
This means that  the whole process must start again. Months of preparation and several public meetings have been wasted.
What is a Village Plan?
A Parish Plan determines the future of your community, and how it can change for the better.  It is a document that sets out a vision for the future of the parish and outlines how that can be achieved in an Action Plan.
The Parish Plan process may include:
A Village Appraisal – a household questionnaire to assess needs and aspirations of local people
Participatory Appraisals – hands-on interactive workshops
Business Surveys
Creation of an Action Plan
Furthermore with plans for 365 extra houses for Hawkwell West a rejection of this in a Village Plan would have been an official document that the District Council would have to listen to.