Essex County Council is currently consulting on its proposal to introduce 'part night' street lighting in the District from January 2014.
The County's consultation seeks views and particularly suggestions as to those areas which meet the exception criteria, advising of the location of the lights including street and settlement names and the reason for meeting these criteria.
So please let us know by emailing john [at] onlinemail.me [dot] uk or christine.mason [at] rochfordessex [dot] net

Photo by Craig MurphyBy Christine Mason (reflecting on Tesco, Southend, on Sunday 7 July 2013
This was one of the worst, most frustrating waste of times I have yet to experience.  The staggering indifference of the staff just added to the horror.  We decided to go into store for a few items but…………….the queue to get out had snarled up the whole car park.  However we were not aware of this until it was too late to turn back.
By John Mason


We had contemplated standing in the County Council Elections but to be honest Christine and I are too busy sorting out issues caused by the DWH Development for all residents.
We are only representing you as Independents at the District Council because we are local residents who care about our local surroundings and environment and we will continue to speak out for you.
What has stimulated this Article?
The Liberal Democrats have published their "Priorities" for candidates standing for Election to Essex County Council across the whole County of Essex.




Yes, the Question is "Will Changes in the Probation Service Benefit Local Voluntary Sector Organisations?"
The Coalition Government hope that will be the case.
National comment From the The Guardian, Wednesday 9 January 2013
"The Justice Secretary, Chris Grayling, is to outline plans for the wholesale outsourcing of the probation service with private companies and voluntary sector organisations to take over the rehabilitation of the majority of offenders by 2015."
"The public probation service is to be scaled back and "refocused" to specialise in dealing only with the most dangerous and high-risk offenders and public protection cases."
Rochford District Council in common with all councils, will have received a letter  from Eric Pickles, Secretary of State for the Department of Communities and Local Government, urging them to publish details of all spending over £500 in full and online.
In the letter Mr Pickles makes clear that transparency and openness should be the default setting for the way councils do business and calls on councils to speedily adopt this new approach. Councils are further encouraged to also publish information on salaries, job titles and allowances and expenses.
From BBC Essex News : Charged expenses peer Lord Hanningfield quits council
Lord Hanningfield denies the charges over his expense claims
Suspended Tory peer Lord Hanningfield, who is facing criminal charges over expenses claims, has resigned as leader of Essex County Council.
Lord Hanningfield, who has also stepped down from the Tory frontbench in the House of Lords, will be charged under the Theft Act, it has been announced.
He has denied the charges and said he would "vigorously" defend himself.
He said to allow him to defend the charges he had resigned as leader of Essex County Council.
Essex County Council has announced it is cutting up to 275 managerial posts.
The cuts will be met through retirement, normal staff turn-over, voluntary redundancy and not filling existing vacancies, the council said.
The council said reducing the layers of management would help bring "quicker and sharper decision-making and… lead to enhanced local services".
It said frontline services would not be affected and it was working with public sector unions.
The proposed cuts represent 2.5% of the organisation's core workforce of 10,900 employees or 16.5% of the council's 1,648 line managers.
Daily Mail, 1 August 2009
Bob Holloway, who runs the pension scheme for local government workers, has warned the gold-plated final salary schemes are no longer sustainable because people are 'refusing to die'.
Local authorities are facing a £50 billion shortfall In their pension pots after recklessly investing taxpayers' money In shares and hedge funds.
The respected Public Service Journal reported that officials are considering a number of ways to tackle the deficit, including raising council tax.
They are also looking at increasing employee contributions, raising the retirement age or cutting public services. Another proposal could see public servants' pensions based on career-average earnings rather than final salaries.
From the East Anglian Daily Times (EADT) here
ESSEX County Council leader Lord Hanningfield was yesterday reported to be under investigation after allegations that he may have wrongly claimed thousands of pounds in parliamentary expenses.
But the peer insisted he had done nothing improper and said a Liberal Democrat MP determined to blacken his name had made a groundless complaint to the police.
Mr Russell said he took Lord Hanningfield's claims about a Lib Dem MP to be a reference to himself.
From a paper submitted to the Cabinet of Rochford District Council.  The full paper, Strategic Countywide Economic and Housing Issues, can be downloaded here.
"Essex has traditionally taken a significant proportion of economic and housing growth without benefitting from the necessary infrastructure improvements to enable growth to take place in a truly planned and sustainable manner. The paper estimates that the cost of delivering the supporting infrastructure across Essex is some £7.6 billion, with an identified funding gap of £6.5 billion. If Essex is to continue to deliver the levels of development anticipated, then this gap needs to be closed and greater levels of infrastructure investment achieved."
Did the County Council Elections prove to be the best place for important questions of policy to be answered by the existing political administration and its political challengers? Did you get the chance to even ask? Did any of the candidates ask them for you?
Faced with promises from David Cameron that Council Tax could be frozen did any of the other parties put them on the spot and extract a local commitment from the Conservatives running Essex County Council?
Well No !! 
And did anyone tell us the answer to this question "When will we get anything on improvements to cope with all the extra planned housing?"
David Cameron says in a leaflet, specifically and personally addressed to you and popped through your door during these elections, that "We've got plans to help people through this recession – like a council tax freeze."
See Leaflet here http://dl.getdropbox.com/u/1063718/davidcameron.pdf
In this case the Conservative Party can take this action right now and before a General Election because it is in majority control of many local councils,  all County Councils and so they can put in a local council tax freeze just as David Cameron has personally promised you.
But will they do it?
We saw this on the Rochford Lib Dems site and decided to run the story as well, which speaks for itself.
A CCTV camera erected at Nursery Corner in January was swiftly removed at the request of District Councillor John Mason.
It then took several weeks to find out what was going on and, by complete coincidence, this web site was brought down just as we were ready to publish.
Again the matter of the adequacy of our existng laws has been taken up with our MP but, as yet, there has been no reply.
Here is how the County Council explained.
Westcliff Film and Video Club are about to start their new season. Nothing new there, it's happened every year since 1963. The difference, this time, is that the club has changed its name to, SOUTH ESSEX FILM MAKERS.
One of the premier film making clubs in the country, it now attracts members from all over South Essex and the name change is aimed at reflecting that. In fact the club has rarely held its meetings in Westcliff at all. Over the years they have used many venues including the County Hotel Eastwood, Hawkwell Community Centre and, for the last few years, Wyburns Primary School, Nevern Road, Rayleigh. That is where the new season will start, on Monday 29th September 7.45 for 8pm. Visitors and prospective members are always welcome. Once again there will be a full programme of Talks, Practical sessions, Competitions and members film nights.
A local puzzle enthusiast has scooped a £10,000 cash prize from the UK's leading Prize Competition organisers, Prize Magazines.
Sheila Watkins from Hockley in Essex was presented with the cheque for £10,000 by Prize Magazines owners Tony and Judy Lane after winning the main prize in a national draw being run through their seven magazines.
Sheila, who is about to start receiving her pension later this year, said "What a brilliant boost to my pension! I plan to share some of the money with my family, visit friends in Portugal for my sixtieth birthday and go on a dream trip to Iceland. I have already treated myself to a Nintendo DS too!"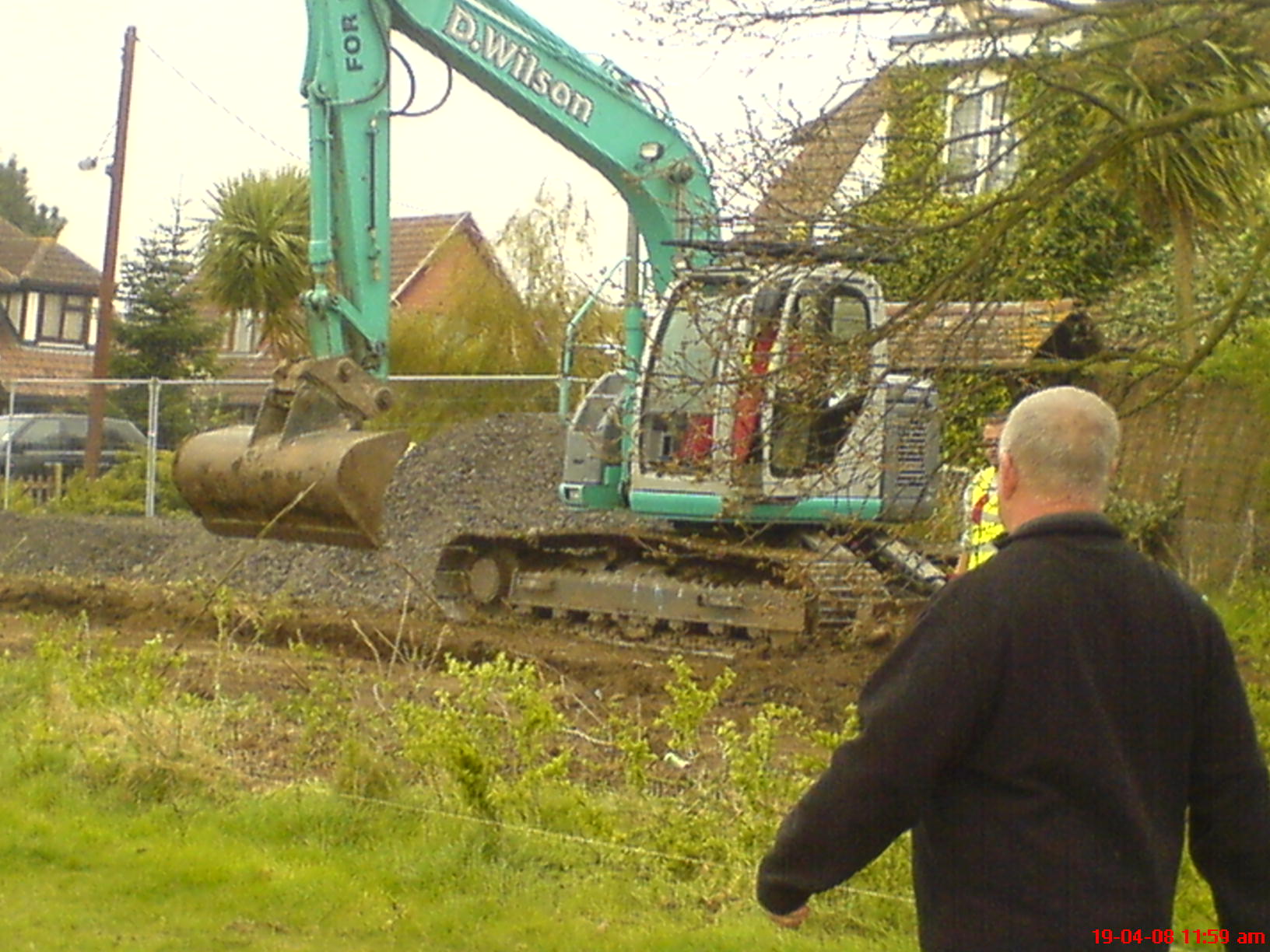 I was called out by residents early on the morning of Saturday, April 19 to the work being carried out by a developer on the land running alongside 63 Hawkwell Park Drive and Park Gardens.  I spoke to the Architect and Builder advising them that they were illegally diverting and surfacing a bridleway.  They refused to stop the work.
I contacted our County Councillor by email immediately and also Rochford District Council.
Planning Policy & Transportation Committee – 3 April 2007
Review of Bus Services
Resolved
(1) That County Highways be asked to:-
– Explore with the local residents ways in which the transport link between the Dome and Hullbridge could be improved.
Planning Policy & Transportation Committee – 3 April 2007
-Explore ways of improving evening services generally.
-Explore the possibility of reinstating the No. 8 service from Hawkwell to Rayleigh during the week.
-Explore with the local residents ways in which the local bus services could be expanded to cater for people wishing to visit places of recreation from the Rochford District.
(2) That Central Government be lobbied to increase its funding to support subsidisation of the bus services in the county.
(3)  That Arriva be lobbied via Essex County Council to improve the condition of their buses and make them more user friendly.
This issue has been the source of a constant trickle of complaints ever since I was first elected in 2000.
The planning application for a car park on the farmland was understandably refused by RDC in 1999/2000.
A then also newly elected Conservative Member of RDC asked if I would sort this out for the factories. But no one ever contacted me.  That Member has now lost his seat and at the Count I remembered that conversation.
Basically the chewed up and deeply rutted, water and mud filled verge is an eyesore and in terms of amenity value it has none.