Salting/Gritting in Rochford District
STOP PRESS, 7/01/2010.  The Government has announced that steps are being taken to control the national distribution of salt !!
This means that it will be necessary to reduce the schedule published here 0n 8/1 and 9/1 -go here  or here to find out more information 
With more snow and icy conditions on the way after the Festive Season our thoughts turned to the problems we experienced in Rochford District from 17/18 December right up to Christmas Day.
ECC Local area offices with knowledge of local requirements can also get involved in deployment. Roads are treated in their order of importance and usage.  So what is considered of importance in Rochford District?
So I decided to write to the County Councillor who is responsible, Councillor Norman Hume, to find out. 
The message that ECC has spent a great deal of budget on gritting roads in the last 10 days has got across to the public.
They are now asking where was gritted, time and date.  Obviously I only need Rochford District data please.
I look forward to hearing from you.
The answer came in the form of a Map where the roads salted are shown in blue.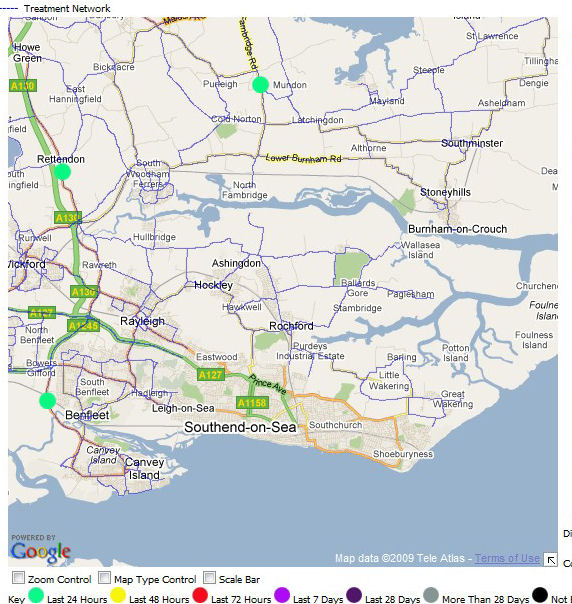 The following link is to the active map that is updated day to day.
http://www.trafficweather.info/roadWeather/rwisMap.jsp?client=98
There is even more information posted below by an Officer from ECC under Comments.
So what about the pavements in our shopping areas?  They were largely untreated and dangerous for several days.
RDC now has its own supply of Salt and 9 new bins were ordered for our shopping areas just before Christmas. The piles of salt/grit that I have seen myself in Rochford and Hockley. 
I think that Keith Hudson has done a great job for residents in securing their safety in conditions which are set to be down right dangerous if the problems before Christmas were to have been repeated.
When the winter is over, though, there are questions to be asked as to why Essex County Council has the responsibility for this and cannot, apparently, fulfil its obligations.
Is it a budget issue or a lack of resources in its contractors?
Although I don't want to count the cost right now, wishing to see safety fulfilled, I am sure that Keith is keeping count of the spend, and although it may not be high or significant in the overall RDC Budget, I do hope that we  as residents, have not already paid ECC and this spend is extra !!
The weather forecast for the next few days looks dire, keep yourselves and your families safe and well.
THERE WAS CLEARLY A BIG PROBLEM INITIALLY AT ECC WHICH WAS EVIDENTLY SOLVED BY RDC !!
The following Article was published by RDC on 23 December which was a full 5 days after the first snowfall and during the first period of 24X7 below freezing conditions.
Did it take this long for ECC to realise that it could not fulfill its obligations?
Or did it take 5 days for ECC to give authorisation to RDC?
The Full Article on Rochord District Matters Online is at
http://www.rochford.gov.uk/rdm/index.php/2009/12/23/rochford-district-council-help-de-ice-the-pavements/
or if that link does not work use this
http://dl.dropbox.com/u/1063718/Rochford%20District%20Council%20help%20de-ice%20the%20pavements%C2%A0%C2%A0Rochford%20District%20Matters%20Online.mht
I would have asked this question there but "Comments are Closed". Here are a couple of Extracts to put my comment into context.
"Ensuring the roads and pavements are kept as ice free as possible is the responsibility of Essex County Council, however, due to the severity of the weather, resources have been stretched and Rochford District Council has stepped in to help out."
"The Council offered personnel and vehicles and has been authorised to collect rock salt from the County's stocks, to work on clearing pavements in the District, in co-ordination with the Essex County Council contractor."