Essex County Council would like to hear your views as it starts a review of its Bus Strategy and how it provides financial support to local bus services.

In this challenging economic climate it is very important that we focus our expenditure where it is really needed to ensure value for money for residents.

This review will help to ensure that the bus services provided by the County Council meet, as far as possible, the essential needs of Essex. The outcome of the review will help to decide what types of service will be supported in future.

This first consultation stage is designed to help us understand which types of supported bus service you value most. Individual services are not being considered for change at this stage. You will have the opportunity at a later stage to give your views on any proposed changes to individual services that may result from the review.

To respond online, please click here to answer the survey. The Survey is open until 9 December 2013.
PLEASE NOTE THAT A BUS SUBSIDY OF £100,000 HAS BEEN AGREED TO BE OBTAINED FROM BARRATTS  FOR CLEMENTS GATE. THIS IS UNDER THE CONTROL OF ESSEX COUNTY COUNCIL.
Here is an extract from the Section 106 Agreement;
"The County Council hereby covenants with the Owner and the Developer to place the Contribution [£100,000.00] into the Contribution account and to utilise the principal and interest solely to subsidise the provision of a bus service between Rochford and Rayleigh passing the Application Site on Rectory Road as the Engineer considers necessary or other bus service connecting Hawkwell with one or more of Rayleigh Rochford or Southend (in respect of which the Engineer shall consult with the Developer before making his decision) the unexpended balance of principal and interest on which account at the tenth (10th) anniversary of the receipt of the said Contribution in cleared funds after appropriate provision has been made for sums committed to be expended by the County Council prior to the said anniversary but not yet paid on the said anniversary shall be returned to the Payers"

If Essex County Council remove or reduce the subsidy on the Number 8 Service then we would expect ECC to use the above funding in substitution.

With regard to the 7 Service running through Hawkwell South or Hawkwell North Wards we will support any initiative taken by Hawkwell Parish Council or the District Ward Members for Hawkwell South or Hawkwell North to keep subsidised services.
Information on bus services from http://onlinefocus.org/
In Hockley, Hawkwell and Ashingdon Essex County Council subsidises the following services:
Monday to Saturday
7  – ECC subsidises three services per hour between approx 0900 and 1500 to extend from Ashingdon Schools to Hockley Spa
8 – ECC subsidises one service per hour between approx 0900 and 1500 to extend from Golden Cross to Hockley Spa
If subsidies for extending weekday bus services beyond Ashingdon Schools / Golden Cross were cut there would only be an hourly service on the number 8 via Hawkwell and a half-hourly service between Hockley and Southend compared to every ten minutes at present.
PLEASE COMPLETE THE SURVEY IF YOU WISH TO SAVE THESE SERVICES
Sundays
7 – ECC subsidises the 1829 (1820) journey from Rayleigh to Southend
If this was cut there would be a one and a half hour gap between the last number 8 and the next number 7, or a two hour gap between services if the number 8 service were also cut.
8 – ECC subsidises the whole number 8 timetable between Southend and Rayleigh.
PLEASE COMPLETE THE SURVEY IF YOU WISH TO SAVE THESE SERVICES
and
email your County Councillor cllr.Terry.Cutmore@essex.gov.uk



An Interview with "Rochford Life Magazine"  fb.me/1l4Ptqzis

— John Mason (@jmasonhawkwell) May 1, 2013
By John Mason


We had contemplated standing in the County Council Elections but to be honest Christine and I are too busy sorting out issues caused by the DWH Development for all residents.
We are only representing you as Independents at the District Council because we are local residents who care about our local surroundings and environment and we will continue to speak out for you.
What has stimulated this Article?
The Liberal Democrats have published their "Priorities" for candidates standing for Election to Essex County Council across the whole County of Essex.
(http://onlinefocus.org/?p=12668 "Essex Liberal Democrats – Our Priorities for the 2013 Elections")
All the County Wards or Divisions in our District are in contest from a wide range of candidates.
I am personally a voter in Rochford North which covers Hawkwell. Here is what I would wish ALL of the candidates looking for my vote to address.
There are 3,500 new dwellings agreed in the Rochford Core Strategy. Already 976 have been given planning permission in the Central part of the District.
Voters cannot see how the overall highways infrastructure can cope without major improvements.
Essex County Council is the Authority responsible for Highway improvement planning.
I do not know of a single other subject that ALL voters in our District want to see addressed as a Priority by a newly elected Administration at Essex County Council, whatever the political balance at the end of the election.
The roads in the Rochford District have not been strategically improved since green-space separated all towns and villages on the Shoebury peninsular (for want of a better name).
The development of Cherry Orchard Way (B1013) resulted in Hawkwell getting true through traffic avoiding the A127 congestion for the very first time.
The Hawkwell Parish Plan Group is so concerned that it has suggested that a Rochford Bypass should be reconsidered when planning to improve the current inadequate road infrastructure. I understand that many voters in Hawkwell support this. What are the County Council Candidates views on this?
As explained by the current Administration at ECC, "the current Essex Local Transport Plan (LTP) was developed in line with Department for Transport Guidance on LTPs. This LTP represents a significant change from previous LTPs. It is not a 5 year plan that sets out a specific programme, instead it is a long term document that provides the framework within which transport programmes can be developed."
The current Administration at ECC Essex County Council stated in an email to me on 21 December 2012 "On a local level every strategic development proposal is accompanied by a transport assessment, the scope of which must be agreed with the Highway Authority. This assessment considers the impact the proposed development will have on the highway network and includes industry standard forecasted growth (TEMPRO) to ensure a comprehensive approach that accounts for present traffic conditions (including any new and committed development) and future traffic growth."
The Highways Authority has evidently not looked strategically at the cumulative effect of traffic impacts of planned development through the Local Transport Plan and The Highways Authority will only address improvements in a limited piecemeal fashion on each planning application for development.
This is not good enough and voters will want to hear what the Parties contesting the County Council Elections are going to do about it.
Let us hope that it is not "Nothing" !!
Richard Boyd is CEO of Disability Essex and a resident of Hawkwell, in Rochford District, Essex .
 
Members of the Commons Transport Committee were given a list of people in Essex and Norfolk who had been killed or injured in scooter incidents.
An Essex disability group said the list of fatal or dangerous incidents involving drivers "goes on".
Richard Boyd from the campaign group Disability Essex told the committee: "One lady in Chelmsford fell off her scooter and was killed by it."
He added: "Another lady in Clacton was taking her dog for a walk on the sea front, the dog pulled the scooter over and it fell on her and killed her.
"In Wickford, a blind gentleman drove across the road and was hit by a bus, and so it goes on."
The committee will consider the evidence and decide in future whether more training and updated legislation is needed.
About Disability Essex
The unique bespoke eco-training centre in Roche Way, Rochford is now reaching completion at Rochford, Essex. In addition to the very low energy requirement (only 5% of that of an equivalent traditional building) the interior design is adaptable for the full range of disability requirements.
The entire project was initiated by Disability Essex, now celebrating its 60th anniversay as the premier county-wide organisation for disability issues. The project will have cost in excess of £2 million when complete, and the building will be the first "Passivhaus/BREEAM Excellent 2009" accredited building, of its type, in England.
Substantial funds were made available by the East of England Regional Development Agency, matched by money from The European Regional Development Fund. Other notworthy funders  were the Charity Bank, and Henry Smith Charity. Over £350,000 was raised and invested by the charity, before construction began in March 2009. The land was sold to the charity by Essex County Council.
MAJOR EUROPEAN AWARD FOR DISABILITY ESSEX
In recognition of outstanding innovation and mitigation to deal with climate change was awarded to Disability Essex
The European Council of the Regions hosted an international conference at their HQ in Brussels, on 24th June 2008. The subject was "Climate Change and the Challenges for Public Health". Co-sponsors were the European Regional and Local Health Authorities (EUREGHA) and the Health and Environment Alliance (HEAL).
Genon Jensen, Executive Director of the Health and Environmental Alliance, congratulated the charity and its architects on the design of the eco-building and the unique health and retraining projects which will take place within it.
But ECHO News, A CHARITY in Rochford has been dealt a blow after being told it cannot let other groups use its new training centre.
Planning permission for Disability Essex's new building on land next to the adult community college, was granted in 2008 to provide offices and teaching facilities for the charity.
The charity wanted to allow the building to be used by other training providers.
However, Permission to allow other groups to use the facilities was refused at a meeting of Rochford District Council's development control committee following a strong objection from Rochford Parish Council.
The parish council said: "Allowing this application could set a precedent if an applicant had intention of circumventing the strict green belt development regulations."
Letters of objection were also received from 15 people, who said noise and traffic would annoy neighbours and the site was already busy.
Richard Boyd, of Disability Essex, said the charity had already started an appeal process.
He said: "The nub of the situation is we have permission to use our buildings to do a series of operations. If we do them there is no objection, if someone does it with us there is no objection but if someone says they are going to be the leader then they can't come here."
Good News !! Local Campaigning works even though the time lag was one year !! 
Nick Blackall,the Essex County Council Local Bus Service Manager has announced that from 2 May 2010, Hawkwell will see an increase to two buses an hour to Southend and Hockley one of which will extend to Rayleigh every hour as now.
In addition there is good news for Hockley as well because a temporary improvement will now be made permanent.
The section of the 7 route between Ashingdon and Hockley along Greensward Lane will increase to four buses an hour to Southend and Hockley and again one of which one will extend to Rayleigh every hour as now.
These arrangements have been agreed by ECC until August 2011.
In summary:
Arriva are reverting to the previous frequency of 6 buses per hour to/from Hockley/Southend, wef from 2 May.  
 
There will be 4 No 7's via Ashingdon and 2 No 8's via Hawkwell.  Services to/from Rayleigh will be unchanged ie one No 7 and one No 8 per hour.
STOP PRESS, 7/01/2010.  The Government has announced that steps are being taken to control the national distribution of salt !!
This means that it will be necessary to reduce the schedule published here 0n 8/1 and 9/1 -go here  or here to find out more information 
With more snow and icy conditions on the way after the Festive Season our thoughts turned to the problems we experienced in Rochford District from 17/18 December right up to Christmas Day.
ECC Local area offices with knowledge of local requirements can also get involved in deployment. Roads are treated in their order of importance and usage.  So what is considered of importance in Rochford District?
So I decided to write to the County Councillor who is responsible, Councillor Norman Hume, to find out. 
The message that ECC has spent a great deal of budget on gritting roads in the last 10 days has got across to the public.
They are now asking where was gritted, time and date.  Obviously I only need Rochford District data please.
I look forward to hearing from you.
The answer came in the form of a Map where the roads salted are shown in blue.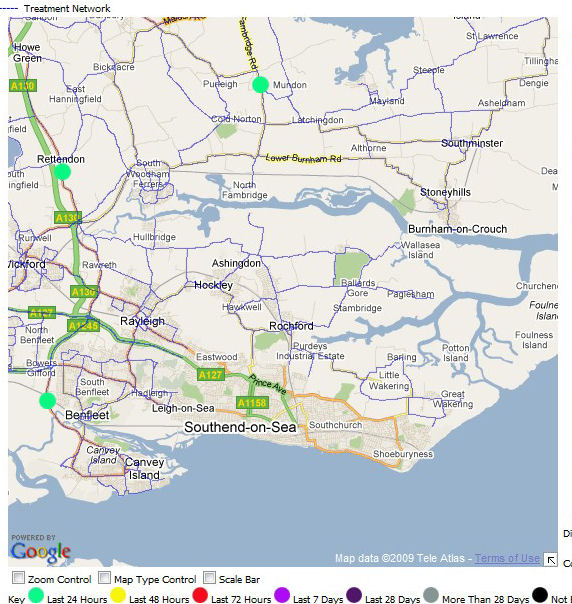 The following link is to the active map that is updated day to day.
http://www.trafficweather.info/roadWeather/rwisMap.jsp?client=98
There is even more information posted below by an Officer from ECC under Comments.
So what about the pavements in our shopping areas?  They were largely untreated and dangerous for several days.
RDC now has its own supply of Salt and 9 new bins were ordered for our shopping areas just before Christmas. The piles of salt/grit that I have seen myself in Rochford and Hockley. 
I think that Keith Hudson has done a great job for residents in securing their safety in conditions which are set to be down right dangerous if the problems before Christmas were to have been repeated.
When the winter is over, though, there are questions to be asked as to why Essex County Council has the responsibility for this and cannot, apparently, fulfil its obligations.
Is it a budget issue or a lack of resources in its contractors?
Although I don't want to count the cost right now, wishing to see safety fulfilled, I am sure that Keith is keeping count of the spend, and although it may not be high or significant in the overall RDC Budget, I do hope that we  as residents, have not already paid ECC and this spend is extra !!
The weather forecast for the next few days looks dire, keep yourselves and your families safe and well.
THERE WAS CLEARLY A BIG PROBLEM INITIALLY AT ECC WHICH WAS EVIDENTLY SOLVED BY RDC !!
The following Article was published by RDC on 23 December which was a full 5 days after the first snowfall and during the first period of 24X7 below freezing conditions.
Did it take this long for ECC to realise that it could not fulfill its obligations?
Or did it take 5 days for ECC to give authorisation to RDC?
The Full Article on Rochord District Matters Online is at
http://www.rochford.gov.uk/rdm/index.php/2009/12/23/rochford-district-council-help-de-ice-the-pavements/
or if that link does not work use this
http://dl.dropbox.com/u/1063718/Rochford%20District%20Council%20help%20de-ice%20the%20pavements%C2%A0%C2%A0Rochford%20District%20Matters%20Online.mht
I would have asked this question there but "Comments are Closed". Here are a couple of Extracts to put my comment into context.
"Ensuring the roads and pavements are kept as ice free as possible is the responsibility of Essex County Council, however, due to the severity of the weather, resources have been stretched and Rochford District Council has stepped in to help out."
"The Council offered personnel and vehicles and has been authorised to collect rock salt from the County's stocks, to work on clearing pavements in the District, in co-ordination with the Essex County Council contractor."
The latest version of the District Council's Core Strategy is now available from the Rochford District Council website.
And the Council still is talking about this mythical place called HockWell !! This is because the Council insists that Hawkwell and Hockley are grouped together "because of housing markets and access to services and facilities".
Hawkwell West, which is still masqueraded by the Council under the misdescription of "South Hawkwell", is nothing at all like Hockley in terms of access to services and facilities.  
You can download the document here.  It is a total of 170 very full pages about where 2785 houses are proposed to be built in our district from 2011 to 2025.
For Hawkwell I am pleased to tell you that the residents campaign by The Hawkwell Action Group (HAG) has caused the proposed 330 houses to be built in Hawkwell West to be reduced to 175.  The bad news is that it they are phased to be built by 2015.
As I said in my recent Newsletter that we delivered to you in the last week or so, I will continue to work with HAG to object to any more houses being built in Hawkwell on green belt.
Once again the Council does not tell us the site; just South Hawkwell.  But as you already know from a conversation that I had last year with a senior officer at Essex County Council and the news leaflet put out by HAG in November last year that we think that we know where !!
My job as a District Councillor for Hawkwell West is to read through this document in detail and understand how the policies put forward relate to the proposal to put 175 houses in Hawkwell West.
I will then discuss my findings with HAG and jointly decide what the campaign should do next.
But we need your help right now. I set out the options you had to consider in my recent Newsletter and now that we know that the figure is reduced to 175 I do need to hear from you with your views before the full consultation in the Autumn.
Did the County Council Elections prove to be the best place for important questions of policy to be answered by the existing political administration and its political challengers? Did you get the chance to even ask? Did any of the candidates ask them for you?
Faced with promises from David Cameron that Council Tax could be frozen did any of the other parties put them on the spot and extract a local commitment from the Conservatives running Essex County Council?
Well No !! 
And did anyone tell us the answer to this question "When will we get anything on improvements to cope with all the extra planned housing?"
What was the view of candidates on the London Southend Airport Plan and transport?
Talking to residents in my Ward post the elections revealed that these questions were not even asked yet alone answered.
The Local Transport Plan is the responsibility of Essex County Council.  The Department for Transport says that it wants local transport planning to be seen as a vital and essential public service – a service that can be relied upon not just to solve problems, but to deliver opportunity for all, and to enhance quality of life.
The Local Transport Plan is a long term plan which sets out Essex County Council's plans and policies for the future of transport in Essex. The first Local Transport Plan was a document containing the five-year programme from 2001-2006. The second Local Transport Plan contains the five-year programme from 2006-2011.
If you are wondering what's in the LTP's here is a link http://www.essexcc.gov.uk/vip8/ecc/ECCWebsite/dis/faq.jsp?channelOid=16819&guideOid=39939&oid=18098
So why was it not a feature of the elections?
The LTP is, I believe, not up for formal revision until 2011 which means that the Rochford Core Strategy will be in place before this is formally revised and any infrastructural changes that we think are necessary will not have been committed to in my opinion. The only hope we have is a General Election before The Rochford Core Strategy is finally put in place early next year because the Conservative Party has pledged to stop the housing development plans.
In the meantime, as residents, we have to do what we can to influence the LTP revision and the Rochford District Core Strategy in forthcoming consultations.
According to RDC "We are discussing the Core Strategy with officers at County Hall and will feed the results of those discussions into the Core Strategy to develop the material included in the appendix to the housing chapter. Bear in mind that the Core Strategy is only intended to set out the broad principles for the development of the district – greater detail will be provided in other development plan document, notably the Allocations Development Plan Document."
Essentially, the situation is still that each development will provide its own infrastructure under agreements with developers. It is going to be absolutely vital that individual Ward Members are as proactive as possible in giving input to the design statements for individual developments. A decision on sites will, I believe, come forward to Council in July but the detail in terms of Design Statements not till October. My greatest concern is that the Council is intending to give the task of an initial draft of Design Statements to the developers so that they will lead the process and carry most of the cost. In Chelmsford the Council employed consultants to initiate these and this is the better route in my view if residents are not to be railroaded by developers in the first draft.
So if you are not happy with the overall current transport infrastructure and the plans put forward for new housing say so in July.
And on individual sites in October.
The campaign to get our evening bus back for Hawkwell has hit an iceberg in the form of the Review Committee for Rochford District Council.
This committee is headed up by Rayleigh Lib Dem, June Lumley and it was asked by Transport Councillor Boss, Keith Hudson to examine all the bus issues that were being raised by the public about cuts in services in Hockley, Hawkwell and Ashingdon.
At the same time I raised the issue of the lack of an evening bus in Hawkwell whilst giving evidence to the committee.  At a subsequent meeting with the residents associations in Hockley and Hawkwell it was raised again for reconsideration by Essex County Council.
Essex County Council has refused to switch one of the evening half hour subsidised services through Ashingdon and Hockley to Hawkwell because it would deprive a very small number of residents of Hockley, Ashingdon and East Hawkwell of a half hourly bus and Arriva says that it would place the viability of the whole service in jeopardy.
Hawkwell Parish Council has backed a switch but it is understood, not surprisingly, that Ashingdon is not agreeable and nor are Hockley again because a very small number of residents in the Greensward Lane to Ashingdon Schools stretch would not have a half hourly service.
So the Review Committee at RDC are just going to give up and do nothing. There is no bus at all in the evening in Hawkwell.
If it is not right to cancel someone else's service, and I agree with that, then Hawkwell deserves its own subsidised service just like Hockley and Ashingdon.
I suggest that residents who feel strongly about this should email Rochford District Council to protest (committee@rochford.gov.uk) and also phone and contact the Evening Echo (john.geoghegan@nqe.com).
David Cameron says in a leaflet, specifically and personally addressed to you and popped through your door during these elections, that "We've got plans to help people through this recession – like a council tax freeze."
See Leaflet here http://dl.getdropbox.com/u/1063718/davidcameron.pdf
In this case the Conservative Party can take this action right now and before a General Election because it is in majority control of many local councils,  all County Councils and so they can put in a local council tax freeze just as David Cameron has personally promised you.
But will they do it?
I think that the Conservatives in control of Essex County Council and Rochford District Council will have to run hard to explain convincingly enough that council tax could not be frozen if we continue to remind them of David Cameron's promises because it is going to be really hard to argue on the doorstep that a council tax freeze could not be put in before the next set of promises at the general election or next local elections in May 2010.
It's certainly a vote winner for whichever of the two major parties actually delivers on a zero council tax increase. All Labour needs to do is maintain the Grant to Local Authorities at the present level and then they can argue that any increase is down to local councillors, mostly Conservative ones across the country and certainly in our area.
It would be really daft if Labour cut the money provided to local authorities, wouldn't it?
Unless the unthinkable happens…………..David Cameron goes back on his word to you because he admits to the country that he made a big mistake? Didn't mean to do it now when it really matters?  Just a bit of spin perhaps?
Or perhaps he meant something else and all is not what it seems in the simple language that he used to get your vote !!
So what would it mean for residents of Rochford if it really meant that a council tax freeze can start right now?
The first year for decades that the Council Tax doesn't just go up by many percentage points regardless of what you think and a freeze providing real respite for families, young and old, who are under such financial pressure.
But will they really want to do this? Well it shouldn't be too difficult anyway because there is no inflation rise required because the RPI is negative.
But any planned improvements in services would have to be shelved because we, the residents, can't afford it this year, next year or the year after.
Councils will have to work harder to make savings on services that still need to be streamlined,  make voluntary reductions in the inflated cabinet councillor allowances and expenses and no employee salaries rises, if they want to spend more on improvements.
Work would  need to be done between now and February on re-working the accounts and making any necessary savings. 
Will political parties say just about anything to get your vote? Yes, because they think that you will forget and there is always a explanation why they could not do it. Blaming the current Government perhaps? Not this time surely?  This is something that can be delivered.
This is a great opportunity for a political party to keep a simple promise and to prove that me and other cynics are wrong.
We must keep reminding them of what David Cameron has promised us.
But I fear that in the weasel words of politics that he will have an incomprehensible reason as to why his promise means nothing in practice.
Just empty promises.  But please keep voting for us !!
Essex County Council has now conveyed a decision not to provide an evening service on the Arriva 8 to Hawkwell.
Here are a few quotes from an Essex County Council email which was sent to me in 2003 to explain why Ashingdon has a good bus service but Hawkwell has none. It still makes no sense to me reading it again 6 years later.
"Under the Essex Road Passenger Transport Strategy , Ashingdon counts as a rural parish with a population of 2937 (1991 census, updated 1998). This means that it falls into category 5 and should ideally have an hourly service (minimum 8 return journeys) 6 days per week and at least 2 return journeys on Sundays.  It should be noted that this is  a minimum service level and a higher service level can be provided if this is deemed necessary. In the event, the economics of running a service on the existing half hourly pattern meant that the benefit to doing so instead of reducing it to hourly was deemed to outweigh the cost. (Vehicle and driver commitment over the day makes up a large part of the fixed cost of a service and extra trips are then possible on marginal cost alone)"
 
So the reason for the evening 7 being half hourly rather than hourly as prescribed by policy is clearly explained by the economic model referred to.
 
It seems to me that the issue upon which bus services for Hawkwell revolves is the status of Hawkwell bus routes under ECC Policy.
"Hawkwell, with a population of 10,667 falls outside the definition of a 'rural area' adopted by the County from national governments definitions of a rural area for its Rural Bus Grants. Hawkwell is therefore treated as an urban area under the RPTS and looked at in association with the major settlements. Minimum services in urban areas are based on a corridor approach, with minimum service levels supported down specific named corridors (a similar system applied to interurban routes). As an example, for Rayleigh, the route between Hockley and the Town Centre is specified as  requiring a 30 minute frequency in the peaks, and 60 minutes at other times. Should the commercial provision fall below this level, the County would in principal look to intervene to support it. (There are other limiting factors such as a maximum subsidy per passenger journey of £5 which would also apply.)"
 
"Unfortunately no route is specified in this way for Hawkwell [eg.,it is not a specific named corridor] so in principle, under the ERPTS, the County Council is not obliged to cover the withdrawal of commercial services in this area. 
 
So the answer lies, in my opinion, in getting ECC to specify the Hawkwell Section of the 8 a "specific named corridor" following which ECC is obliged to cover the withdrawal of commercial services in this area both day time and evening.
It make no sense to me that Hawkwell with a population 5 times the size of Ashingdon has no evening bus service whereas Ashingdon has a bus every half hour.
And there is the ridiculous situation that there is only one day time bus per hour to the Rochford District's flagship Leisure Centre which is in Hawkwell on the bus route and no buses at all in the evening. Surely this is enough alone to warrant the Hawkwell bus route being a "specific named corridor." 
Our County Councillors need to get together and sort out the red tape that is such a nonsense to any sane mind.
Thank you to everyone who wrote to Arriva objecting to a change of the 8 Bus Service to one per hour.
Whilst Arriva have stated that that they have not made a final decision, I think that we have to face the possibility that this decision could go through because I am advised of the rising cost of fuel and the low passenger numbers.  My concern is that with a service of only one per hour then passenger numbers will fall even further and next time the service will be cancelled.
Nevertheless the people that did write to Arriva have made their protest known but it is hard to see how that will alter the economics from Arriva's point of view.
It is possible if the public make representations that Essex County Council might step in with a subsidy.  If you do feel strongly enough about the issue please join me in sending an email to our County Councillor, Tracey Chapman at cllr.tracey.chapman@essexcc.gov.uk 
Arriva will register their decision on service changes with the Traffic Commissioner on 10 August 2008. The public will be informed when Arriva advertise the revisions to customers by means of onboard advertising and via their website.  
The email Arriva sent to you in reply says that "No changes will be made without full consultation" but I can assure you that there will be no further consultation with the public because this will end with the Arriva consultation with Essex County Council.  So please email Tracey Chapman.
John Mason
Independent District Councillor for Hawkwell West
There were renewed calls in the Echo on 4 July for a Southend Relief Road because of recent closures of the A127. Southend notables were interviewed and they saw no point in road improvements in Southend which would link up with the A127. A suggestion was of a new road going North of Shoebury.  Nobody actually said that there should be a Rochford Southend Relief Road but how long will it be before this gets back into play following the retirement of Southend MP Sir Teddy Taylor who campaigned relentlessly for a major road through Rochford District. 
If readers want to know the history of Southend/Rochford Relief Road then please look at this web site. 
http://eerasouthendreliefroad.org.uk/
Planning Policy & Transportation Committee – 3 April 2007
Review of Bus Services
Resolved
(1) That County Highways be asked to:-
– Explore with the local residents ways in which the transport link between the Dome and Hullbridge could be improved.
Planning Policy & Transportation Committee – 3 April 2007
-Explore ways of improving evening services generally.
-Explore the possibility of reinstating the No. 8 service from Hawkwell to Rayleigh during the week.
-Explore with the local residents ways in which the local bus services could be expanded to cater for people wishing to visit places of recreation from the Rochford District.
(2) That Central Government be lobbied to increase its funding to support subsidisation of the bus services in the county.
(3)  That Arriva be lobbied via Essex County Council to improve the condition of their buses and make them more user friendly.
Update
Shaun Scrutton, The Head of Planning and Transportation at RDC has written to Essex County Council Highways Department requesting that this matter be investigated.
Following the report Cllr T Livings has had a meeting with a representative from Essex County Council to discuss the recommendations at which time Cllr Livings again mentioned the No 8 Bus Service and whilst he was advised that the extension from Hawkwell to Rayleigh is a long outstanding request that Arriva are well aware of, Essex CC have said they will raise it again with them at their next meeting.