Anti Social Behaviour : Matter of Concern Number 1, Residents Survey – Hawkwell West 2007
So the Police want the Youth to congregate at Clements Hall Leisure Centre. Not good news for Hawkwell residents living nearby.  But the Police want the Youth to be able to use the facilities.
So will Virgin Active and RDC offer the use free or subsidised?
I have written to a senior officer of RDC to ask how this Police request will be actioned.
Is the Conservative Group on Rochford District Council already seriously split and are some Tory Members on the verge of not only resigning the party whip but leaving the Conservative Party Group?
Here is an anonymous comment made on the Lib Dems web site: http://onlinefocus.org/?p=670#comment-18795
anonone Says: June 15th, 2007 
Has the council changed forever? There are quite a lot of Tori councillors here in Rayleigh that are very unhappy with this situation and are trying to band a group to bring back the old council as we used to know it. And im not talking any of the portfolio holders whoos slip of the ______ Its time this council was reverted back to it previous state were councillors felt they were taking part not left like ZOMMBIES.
If you want to read a report on the first Executive Board Meeting then you can find one on the Lib Dems site together with some relevant comments from residents.
http://onlinefocus.org/?p=670#comment-18795 
I did not attend because I had already been advised that I could not speak and I knew that I would be completely sidelined.
The following letter is, I think, now the only way that I can represent residents on policy matters – I hope that this example proves that important matters of policy can still be influenced by ordinary councillors rather than the just the highly paid nine RDC Executive Councillors – but who knows?
The Hawkwell Parade of shops is private land and the litter is the responsibility of the shop keepers not Rochford District Council.  So we are grateful to Myra Weir for clearing this up for them.  I think that they should pay for this service.
SkateBoard Facility – Hawkwell Playing Fields
Dear Councillor Mason,
I have been requested by Graham Woolhouse to provide you with an update on this issue.  I can confirm that I have spoken with Myra Weir personally and ascertained that she currently collects litter in this area on Saturdays and Sundays. The main issues that she is concerned about appears to be broken glass.  This is said to be worst on Saturdays mornings rather than Sundays. As you know our normal litter collection service for this area is only provided between Monday and Friday at present.
Rochford District Council – Central Area Committee 12 June 2007
NO members of the public attended.  Why?
But there were 14 paid employees of RDC present (cost?).  And at least 7 paid employees of Essex County Council who were not presenting (cost?).
RDC Executive Councillor Mavis Webster was down to present on Tourism but she did not turn up nor send apologies.
I am a Member of the Review Committee.
Full Council had already asked that this "investigations" Committee look at the following:
1. Understanding of Planning Appeal Procedures
From what the Chief Executive had to say this sounded more like an internally facing review rather than something that will directly affect residents.  My guess is that the Officers want Members to understand more about the cost and causes of Appeals, especially when the Development Control Committee goes against the recommendation of Officers and cause an Appeal.  But I could just be a cynic.
Medical Care : Matter of Concern Number 4, Residents Survey – Hawkwell West 2007
As a Ward Councillor I am working with the South East Essex Primary Care Trust to ensure that there are Health Improvement Programmes aimed at the population of Rochford.
These are:
DEMOCRACY DIRECT because I have no committee which funds, owns or directs me.
THE ROCHFORD INDEPENDENT is owned by John Mason who is the Editor.
John sponsors Rochford District Residents (a local registered political party for Rochford District, Essex). Hawkwell is our base but we cover the whole of the Rochford District.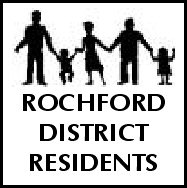 If you raise something with me then it goes DIRECT to Council or the alternative responsible organisation like the Essex Police or the Primary Care Trust. DEMOCRACY DIRECT !! Anything else is not Democratic.
CEO Paul Warren has said  "I'm not convinced the public are that interested in the processes of the Council – what they're interested in is outcomes!!" 
There was no surprise when every seat on the powerful Executive Board was reserved for a Conservative.
I attended a "training session" run by Paul Warren (CEO of RDC) who advised Members how this was going to work and what non Executive Board Members could not do.
Planning : Matter of Concern Number 5, Residents Survey – Hawkwell West 2007
Sites Suggested for Development in Hockley/Hawkwell
These sites have been suggested by landowners to Rochford District Council as part of its consultation on the Rochford Core Strategy.  An allocation of 400 houses is recommended.  Does this affect you?
 
1                 Land off Folly Lane , Hockley
2                 Land off Magnolia Road, Hockley
3                 Land off Thorpe Road, Hawkwell
4                 Land off Beckney Avenue, Hockley
5                 Site at the Pear Tree, New Park Road, Hockley
I don't really mean that but it is an eye catching heading on a subject that really does matter.
Planning : Matter of Concern Number 5, Residents Survey – Hawkwell West 2007
The Vogon Constructor Fleet is the fleet of alien spaceships in The Hitchhiker's Guide to the Galaxy that demolishes the Earth to make way for a hyperspace bypass,and they despair at the fact that the planning application has been advertised at Alpha Centauri for 50 years (when of course earth people did not know about it and could not get there anyway !!)
Planning : Matter of Concern Number 5, Residents Survey – Hawkwell West 2007
In 2003 I was elected by you as a Member of Hawkwell Parish Council.  One of the priority projects was the development of a village plan. This is one of the projects that I wished to see taken forward by Hawkwell Parish Council 2003 – 2007.
One of the big questions is development, what is going to happen to Green Belt?  Houses or not?
The new Area Committees were the only promising part of the New Political Structure put in place by the Conservative Party Group on Rochford District Council.  But that promise has been dispelled even before they have met.
They were promising because they meet almost locally and would allow residents to speak.
The Area Committees were approved before the way that they would work with public speaking had been worked out.
I have now been informed verbally by Councillor Stansby, Central Area Chair, that residents who wish to speak will have to fill in a form beforehand !!
 Planning : Matter of Concern Number 5, Residents Survey – Hawkwell West 2007
The Conservative run District Council has determined its preferred options for how the District is to develop over the next 14 years and it wants to hear your views on these.  An array of issues need to be decided, including the general locations for new housing, areas to be protected, future employment provision, affordable housing, the approach towards tourism and leisure, and more.
 
The proposals are explained in the draft Rochford District Core Strategy, one of a series of development plan documents being prepared by the Conservative Party for the District.
Council Tax : Matter of Concern Number 2, Residents Survey – Hawkwell West 2007
Having served on Hawkwell Parish Council from 2003 to 2007, I wish to bring out into the open, my personal, but well qualified opinion of the situation this Council is in.
I found this period incredibly frustrating because at the beginning of my term I was asked to put my ideas forward a plan for a range of projects that could be taken forward over both the short term (3 years), medium term and long term (10 years) periods. I put 33 projects forward which would have benefitted all age groups in Hawkwell.  None were taken forward in my term of office.
(NOT ME, I AM VERY BUSY !! – John)
This was an interesting statement left anonymously the Liberal Democrats Web Site. (Could it have been a disgruntled Tory?)
Initially it provoked me, an "independent" Member of RDC to feel the same but an enquiry of John Honey, Corporate Director of Internal Services at the Council reminded me that ALL Councillors can attend ALL public meetings and speak.  But you can only vote on those Committees to which you have been appointed by Council.
Independents don't get to be on many.
Tory raps 'lazy councillors'
From the Echo  Monday 23rd April 2007
A FORMER council leader has claimed his own colleagues are more concerned with their allowances than working for their constituents.
Tory Rochford district councillor Peter Webster launched an astonishing attack on his fellow members who, he claimed, were "too lazy" to fill in a questionnaire about how the authority worked.
The questionnaire was sent to all of the 39 councillors, asking for their views on the workings of the review committee during its first year of operation.
Just a reminder if it comes up again !!  
Section 106, Representation of the People Act 1983, Crown Prosecution Service Special Cases Division
Criticism of public acts, even if extravagant and perverse,or of a person's political career and conduct, does not fall within the Section.
All is fair in love and war and, well, that's politics !! 
Alerted by a letter of complaint from an individual taxi owner about Taxi Licencing Regulations, John called the Council to ask how this was to be dealt with.
Whilst this complaint will be dealt with in June the officers advised that all the conditions are way out of date but they do not have the resources to undertake a review and update which they agree needs to be done.  There are insufficient resources.
Because of the parlous state of public transport in Rochford District this is a major and responsibility of RDC which seems to have been neglected and there is no plan to up date and there are insufficient resources.
As the Chair had been appointed and the first meeting was due on 12 June, I wrote to Derek Stansby and asked how the public could participate.  These new Area Committees are about consultation with residents but no details were available to advise residents.
I sent the letter and the by the afternoon of receipt by Derek Stansby, it had been passed to Rochford District Council Officers to ascertain how the Area Committees were to work!! I thought that these "super councillors" on the Area Committees and Executive Board were paid additional allowances for additional responsibilities.  If they are going to use the old ruse of asking the Officers what to do then why do we need executive councillors who are paid?